Messages from Goodwill's Leadership
Letters from Our CEO and Board Chair
Annual Message from Our CEO: Dale Monaghan
For over a half century, Goodwill has been changing lives for the better, strengthening families and communities through the power of work and the dignity of a job. We entered 2018 excited to continue to build on this legacy of good to create yet a greater positive impact within the communities we so proudly serve.
Read Full Letter
Dale Monaghan
President and CEO
Annual Message from Our Board Chair & CEO
In 2018, Goodwill Industries of Alberta were able to create greater connections within the community, generating better engagement and creating meaningful employment opportunities for those we serve. We're able to arrange space at the Edmonton Impact Centre for some of these partnerships like the innovative program of You Can Ride 2, Alberta Reads and our Commercial Services programs.
Read Full Letter
Dale Monaghan
President & CEO
Kevin MacDonald
Board Chair
Goodwill Industries of Alberta is a non-profit social enterprise, strengthening people and communities, creating a positive impact across Alberta. Goodwill is one of the largest employers of people with disabilities in the province, enhancing lives through meaningful career development and job creation.
Goodwill's positive input begins with a donation. The success of Goodwill's retail operations and our capacity to strengthen the communities around us revolve around the generosity of people in those communities choosing to donate used household goods and clothing to Goodwill. These items donated to Goodwill are sold through Goodwill thrift retail stores, providing the community the opportunity to obtain quality items at a great value.
Goodwill is passionate about the Path to Employment. This program provides employment coaching and job training for individuals with disabilities through collaboration with local business and organizations.
Goodwill has been able to divert millions of kilograms from the landfill through the implementation of the Sustainability Action Plan. This plan initiated recycling through our glassware, ceramic, cleaning cloths and plastic initiatives, earning recognition from the Recycling Council of Alberta.
Goodwill believes and is passionate that our mission defines who we are. Our vision is our guiding light, steering us to success, while our values provide our moral compass.
Achieving Purpose
The Path to Employment
Career Connections
Goodwill @ Work
The Career Connections team has increased team engagement and collaboration to help play a key role in assisting Albertans' with disabilities gaining and maintaining meaningful employment in their community.
Through an individualized Person-Centred plan, The Path to Employment program puts a focus on skill building, customizing work opportunities and job coaching. This helps support the needs of each individual.
Once a client achieves their independence, there is so much more they can do. Everything about inclusion sets them up for their future goals, as they are looking to gain the same opportunities as everyone else, discovering purpose, while participating in a team environment.
GFI Systems and Career Connections
Peter Kuttikat is one the successful participants from the Career Connections Path to Employment program.
How Goodwill Helps
Mike and Michael work at the Goodwill Industries of Alberta Corporate office. They have been provided an opportunity through the Career Connections program.
Impact Centre & Sustainability at Goodwill
This Year's Sustainability Stories
"The concept behind the Impact Centre is all about sustainability."
Making a positive impact on the environment
In 2018 the Goodwill Impact Centre celebrated its one year anniversary. It was a year of creating a positive impact on the environment, while providing employment for Albertans and Albertans with disabilities.
The Impact Centre has proved to be the future of Goodwill in Alberta and is home to several important aspects of the organization with a main focus on Sustainability.
Goodwill implemented its first Sustainability Plan in 2018 with the goal to incorporate sustainability into all areas of operations. This has translated into a greater diversion from the landfill and significant water and energy savings.
As a result of Goodwill's commitment, 31,760 kilograms of plastics, 11,902 kilograms of glassware and 104,695 kilograms of paper were diverted from local landfills in 2018. Overall over 13 million kilograms were diverted from landfills with the diversion rate increasing to 81% from 78% the previous year. Waste bins have also now been removed from the donation centres and retail stores in the greater Edmonton region, as all waste is now centralized at the Impact Centre.
The success of the Goodwill Impact Centre in Edmonton has led the organization to pursue a similar venture in Calgary in the coming years.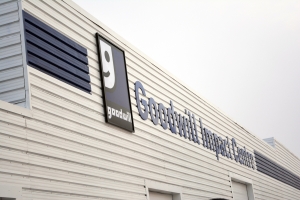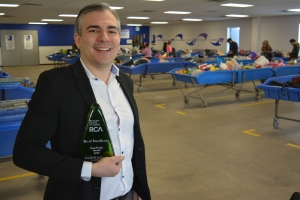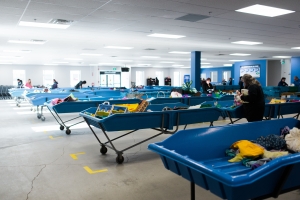 Recycling Council of Alberta Environmental Stewardship
Since inception the Goodwill Impact Centre has been an example of good sustainability practices. In 2018, the facility was recognized by the Recycling Council of Alberta with the 'R's of Excellence' award for outstanding reuse, recycle and re-purpose programs. The incredible impact won the Not-For-Profit award.
Goodwill's extensive reuse and recycling program includes textiles, shoes, accessories, metal, books, paper, cardboard, toys, electronics, toner cartridges and furniture. Cotton T-shirts and towels that were unable to find a home through our retail stores are brought in to our Commercial Services division, where the team transforms them into cleaning cloths.
Different community partners and recyclers were brought together to forge synergies with the goal of reducing waste, while supporting Albertans with disabilities.
Commercial Services
Creating meaningful employment
Commercial Services is a division of Goodwill that provides innovative and cost-saving services for various companies in packaging, assembly and light manufacturing. This initiative is integral to Goodwill's sustainability and creates meaningful employment for Albertans' with disabilities.
One such program within the department is the re-purposing of donated terry cloths and t-shirts that do not find a home through our retail stores. The Commercial Services team cuts, rolls and transforms these items into cleaning cloths that are then sold at Goodwill's retail stores and through local partners, including Hughes Carwash and North-Central Co-op.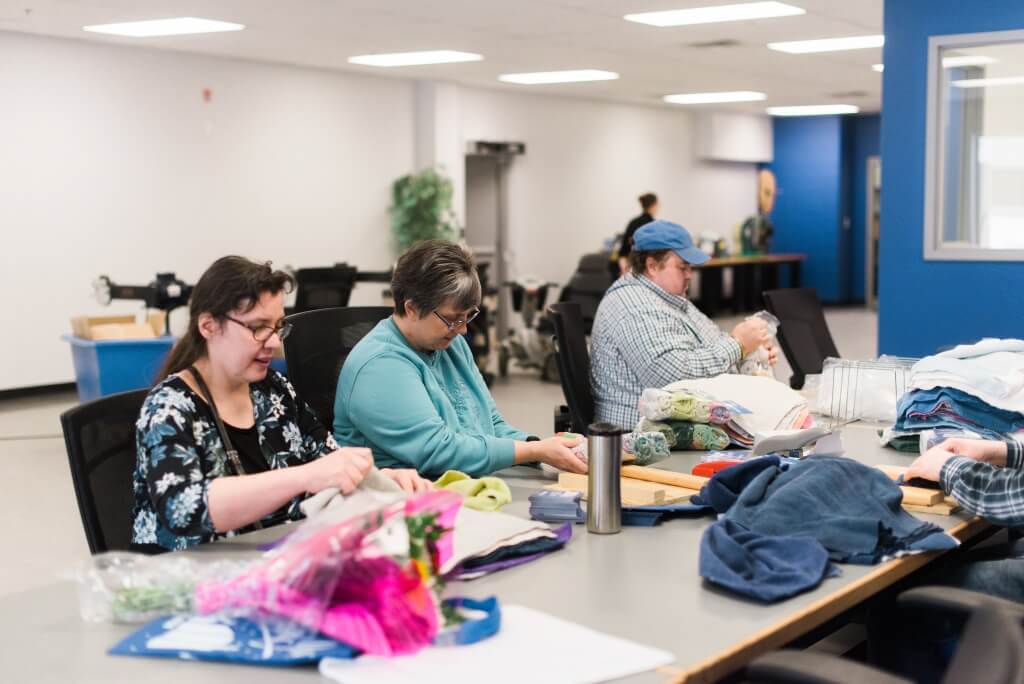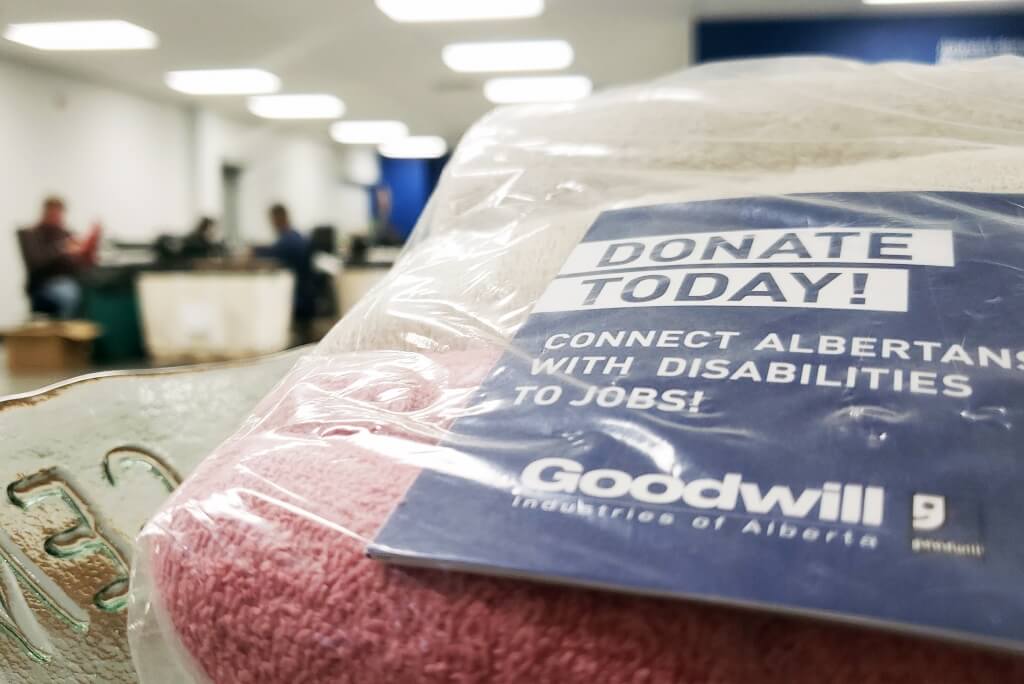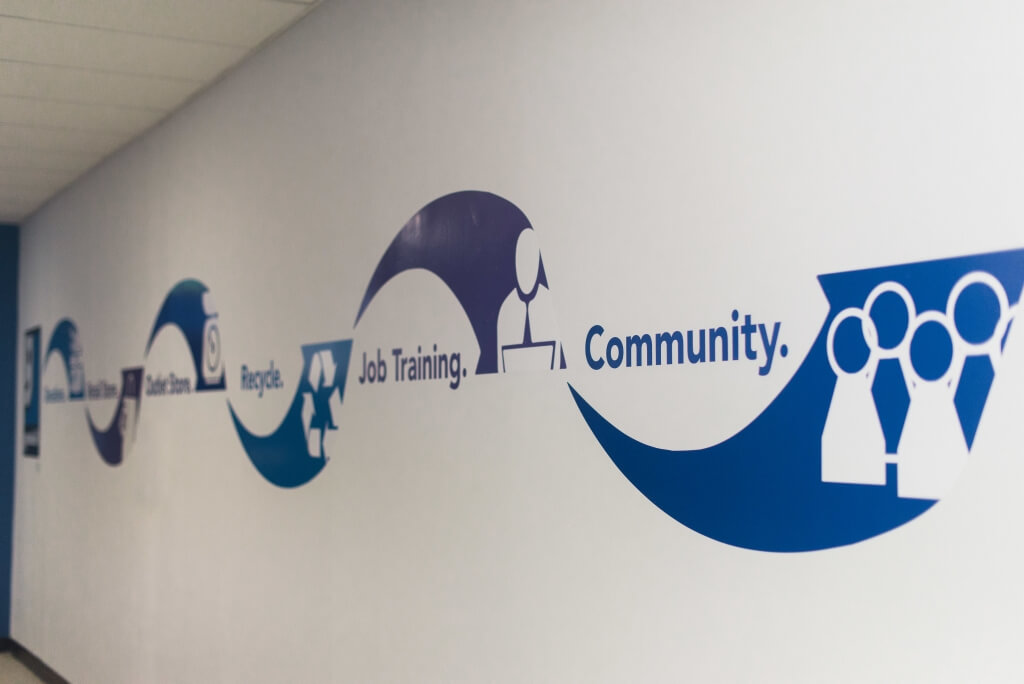 Goodwill in the Community
Shared goals with a similar vision
Goodwill is proud to partner with different organizations throughout the community. The purpose of these partnerships is to work toward shared goals, while sharing a similar vision.
In 2018, Goodwill continued their partnership with College H.U.N.K.S., while fostering new relationships with Rohit Communities, Chappelle Gardens and ATB Financial. These are only a few of the important partnerships formed. Goodwill is grateful for all the organizations who assist with the mission of providing meaningful employment for Albertans' with disabilities.
You Can Ride 2
You Can Ride 2 offers adaptive bicycles and services for children who require specialized training or equipment.
Alberta Reads
Creating a culture of reading is a collaborative effort, involving schools, educators, families, researchers, volunteers and community partners.
2018's Major Goodwill Events
Another exceptional year of community engagement & growth at Goodwill Industries of Alberta
The Goodwill Greatness Awards gave the organization a chance to recognize the achievement within Goodwill and the communities and partners we are proud to serve. The award celebrations took place over Goodwill week with three difference celebrations being held across the province in Grande Prairie, Edmonton and Calgary.

While there were numerous award winners, Goodwill is proud of the hard work each and every Goodwillian puts forward. Without the entire organization working as a whole, Goodwill would not be able to execute on the mission of providing meaningful employment to Albertans' with disabilities.

Thank you to all the sponsors, partners, volunteers and employees for allowing us to share in your success.

The holidays are for the giving. Volunteers and employees at the Goodwill Spruce Grove Thrift Store and Donation Centre hosted a late night inclusive, assisted shopping experience.

Helper elves were assisting anyone interested in finding an upcycled Christmas gift at amazing prices.

This was a first of its kind event at this location and the support received was outstanding.

At Goodwill, we're all about dedication. At the one-year anniversary of the Whyte Ave location in Edmonton, the dedication became a reality when the Career Connections Centre of Excellence was named in honour of Valerie Thornton.

Valerie was a hardworking Goodwill employee for 21 years prior to passing away in 2012. Originally working through the Career Connections program, Valerie's generosity serves as an example of the lasting influence donations to Goodwill have on the lives of Albertans. Her contributions will help others seize their opportunity and reach for their own dreams for years to come.

Her cheerful smile, love of strawberry ice cream and the joy she found in bowling continue to live on in our memories.
1 Year Anniversaries at Goodwill
Milestones were reached in 2018 at four locations across the province
In Calgary, the Beacon Heights retail store and Career Development Centre built on the success of their first year. In Edmonton, Goodwill on Whyte and SouthPark enjoyed the success of their recent moves, while the Amazing Impact Centre and Outlet Store marked one year as one of the most innovative centres of its kind in Canada.
Each location celebrated the anniversaries with customers, donors, partners and employees, showcasing the new modern look of Goodwill with an eye on the future.
Goodwill's Board of Directors
Volunteers from throughout Alberta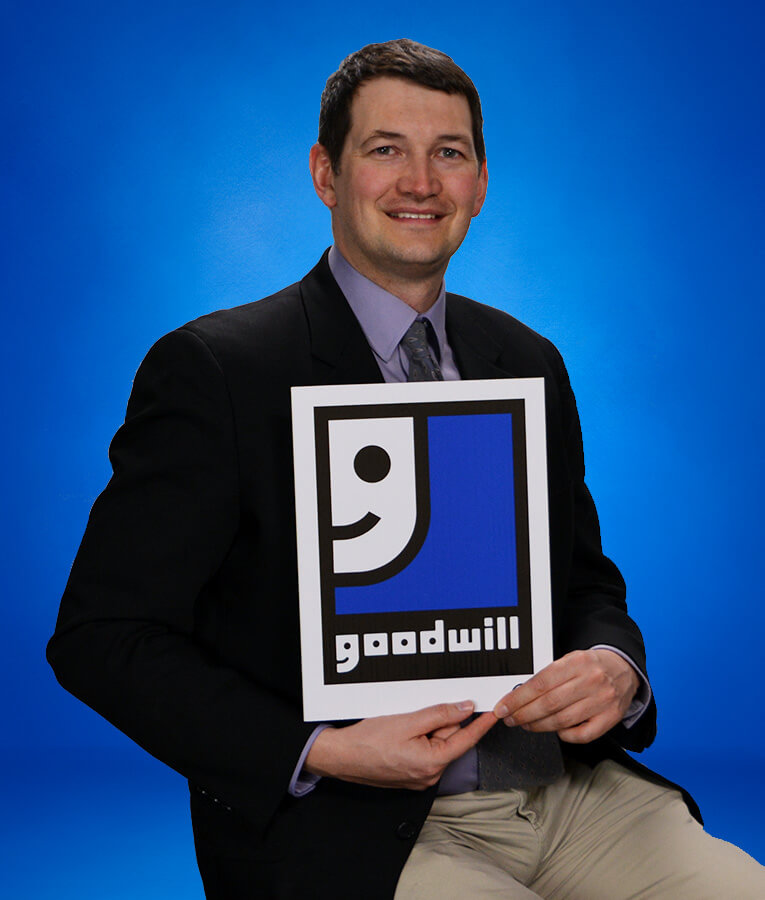 Kevin MacDonald | Chair
Committee: Chair, Executive Ex-Officio, All
Kevin is the newest Board Chair of Goodwill Industries of Alberta. He is the Founder and Business Consultant at L6S Business Consulting, helping business owners with overall planning, strategies and increasing operational efficiencies and profitability. Over Kevin's career, he has taken on various roles which allowed him to lead the IT, Human Resources and Accounting departments of various companies.
Kevin has a family member that is legally blind and suffers from a mental illness. The sleepless nights, frustrations, and heart ache that Kevin's family has gone through is the reason that Kevin joined the Board of Goodwill. If one less Albertan family doesn't have to go through the same emotional roller coaster, Kevin sees him time at Goodwill as successful.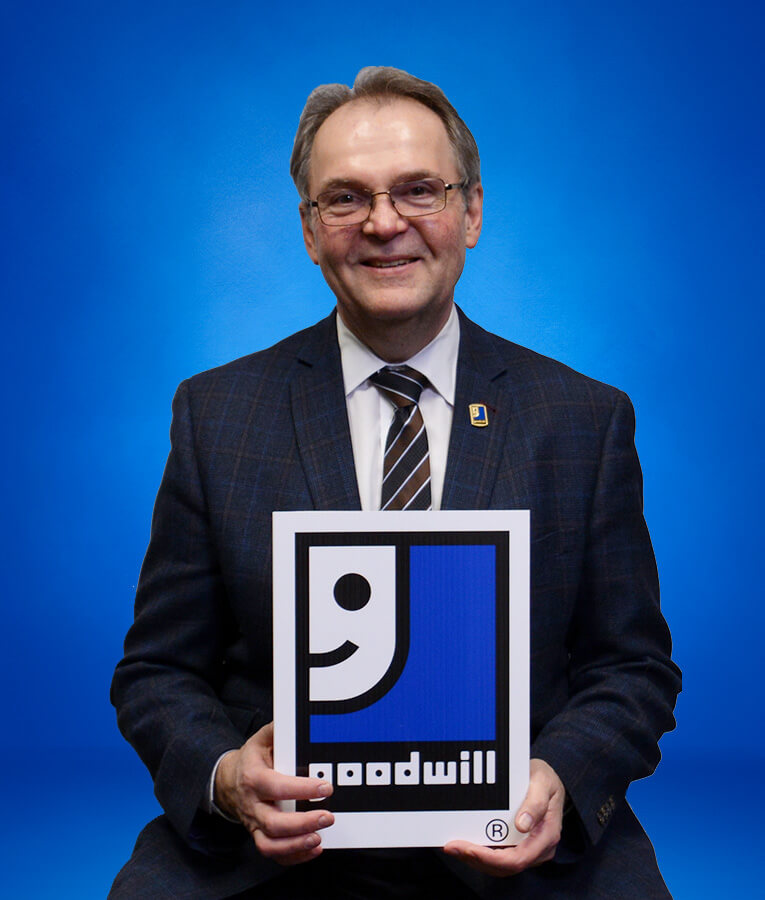 Larry Brownoff | Vice Chair
Committee: Governance
Larry joined the Board of Directors in 2010 and currently serves as the Vice Chair. Larry served as Chair of Board for four years and Chair of the Relationship Review Committee for two years. He is the Director, Member Engagement and Technical Advisory with CPA Alberta in the Edmonton office.
Larry comes to Goodwill from Robert Half International where he specialized in senior finance and accounting recruitment, placement of senior project financial professionals and executive search. In addition to his decade of recruiting expertise, Larry brings 17 years of senior level industry experience.
Larry has been active in professional and community activities throughout his career and is proud to serve with Goodwill.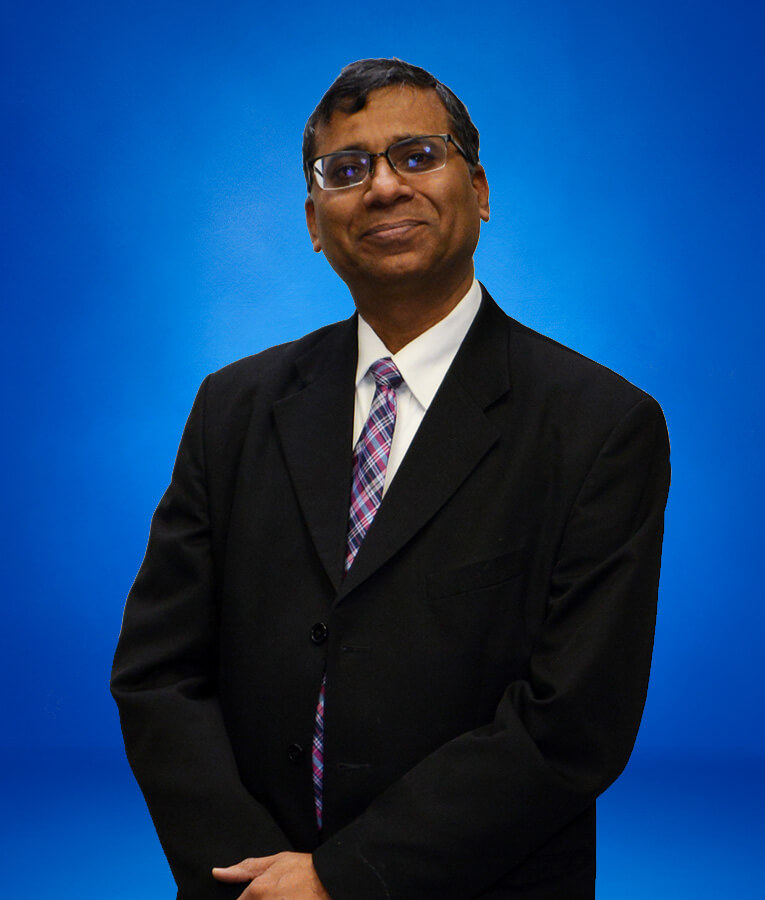 Jammi Rao | Executive Chair
Committee: Chair, Governance Executive
Over the course of his 32 year career, Jammi has worked with commercial banks in India, Japan, Kuwait and Canada. He currently works with regulator of Alberta's credit unions where he is responsible for Strategic Planning, Data Analytics and Regulatory Practices.
Jammi has served on the board of Goodwill Industries of Alberta for the past four years and brings proven leadership experience, excellent communication skills and an ability to grasp complex technical concepts required for sound analysis and decision making.
He believes in giving back to the community and says he feels fulfilled by contributing his time and expertise to furthering Goodwill's mission.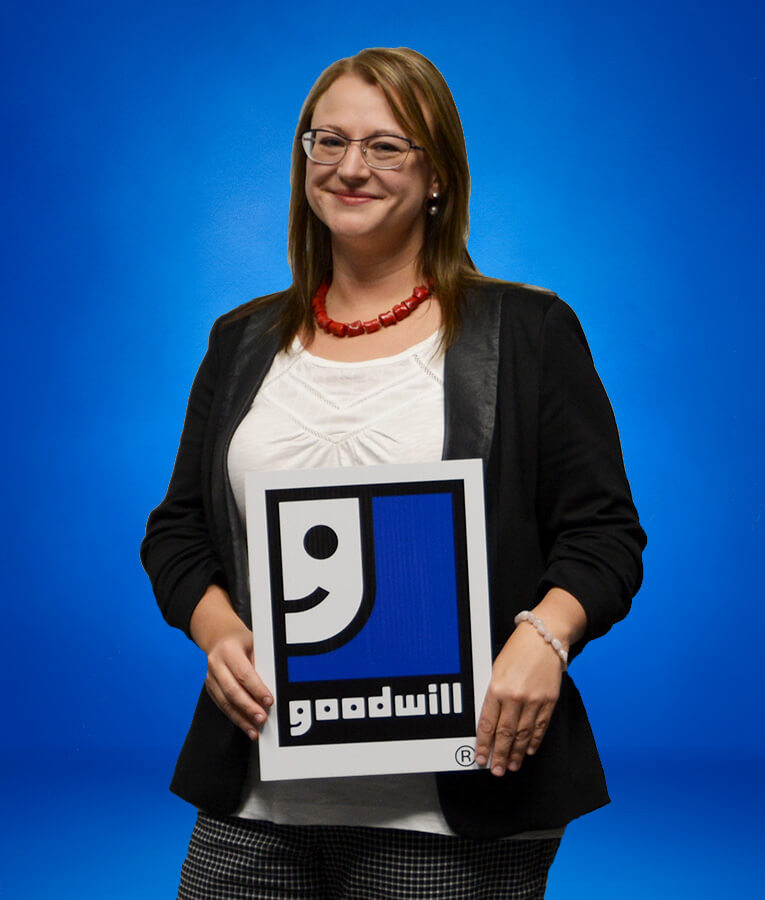 Meghan Unterschultz | Secretary
Committee: Governance Executive
Meghan brings a wealth of knowledge to Goodwill from community engagement to organizational development. As Assistant Dean, Advancement with the University of Alberta's Faculty of Graduate Studies & Research, Meghan develops fundraising strategies to support research and successful outcomes for graduate students. In 2017, Meghan was honoured to be named one of Edmonton's Top 40 Under 40.
Community contribution is important in Meghan's life. In addition to serving Goodwill Industries of Alberta, Meghan also volunteers as a Big Sister mentor and has served on the Parkland Turning Points Society board, helping to advance the wellness and growth of women, girls and families.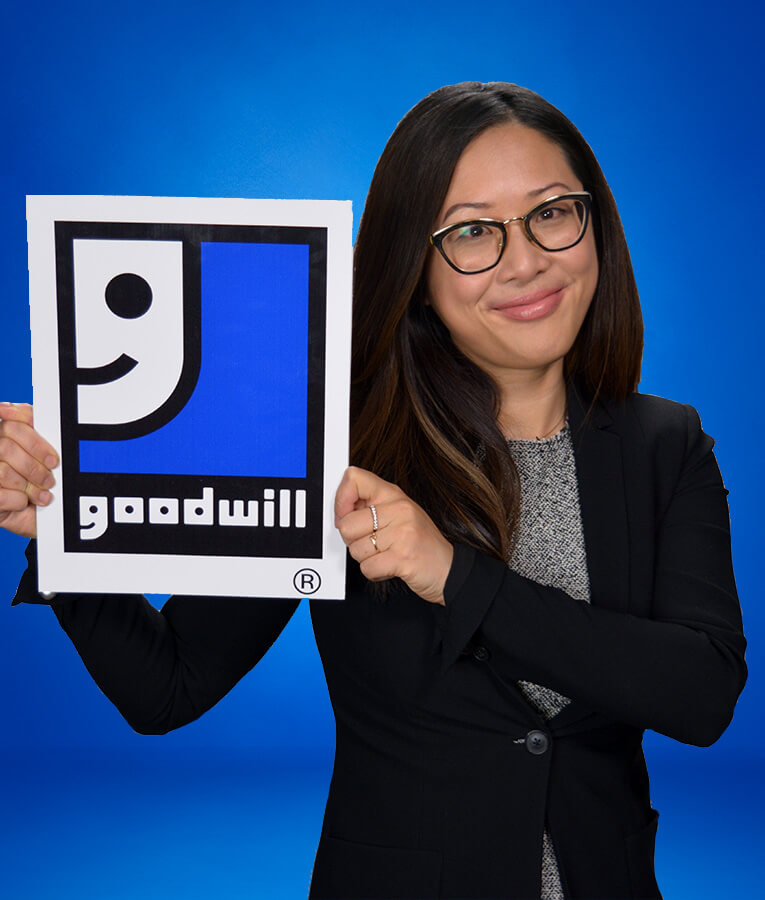 Dorothy Chan | Treasurer
Committee: Chair, Finance and Audit Executive
Dorothy is a Chartered Professional Accountant, financial leader and business partner with a history of working in environments that are going through aggressive growth and rapid change. She has worked with a diverse portfolio of organizations navigating through high growth and restructuring while fostering internal innovation.
Dorothy believes in giving back to the community and is honoured to be serving on the board.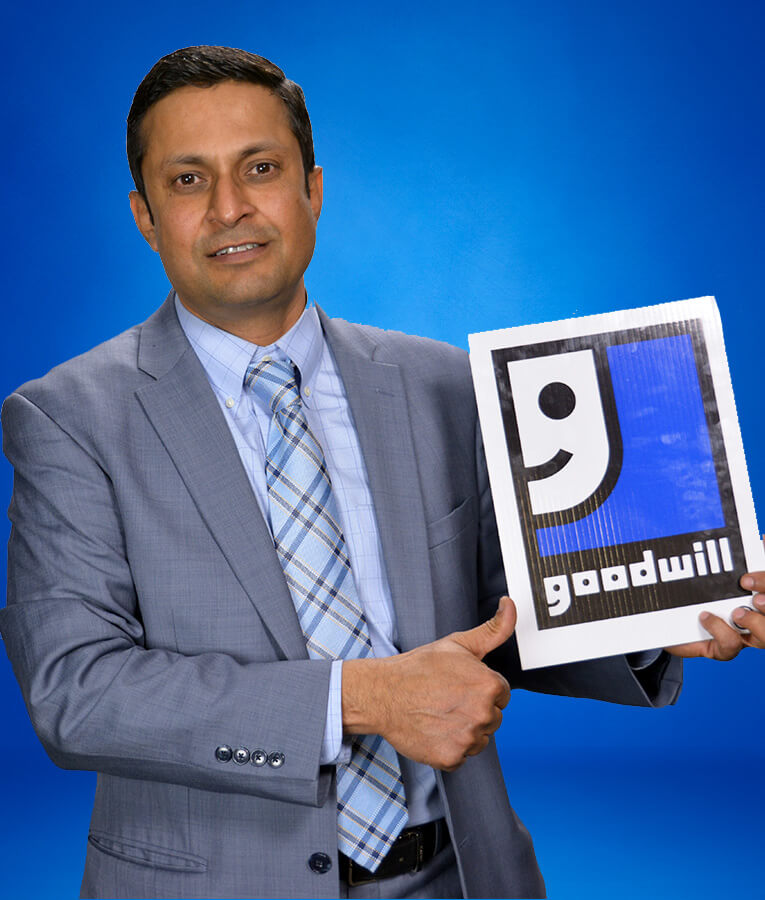 Bikram Daulay
Committee: Finance and Audit
Bikram is a well-rounded business leader with 18 year of experience in general business management with emphasis on brand building, marketing, communications, and strategy development.
Bikram's experience spans the globe and includes work in Canada, the United States, Europe, and India. He is currently responsible for managing all marketing and communications for SCM Insurance Services and is looking to help impact positive development at Goodwill.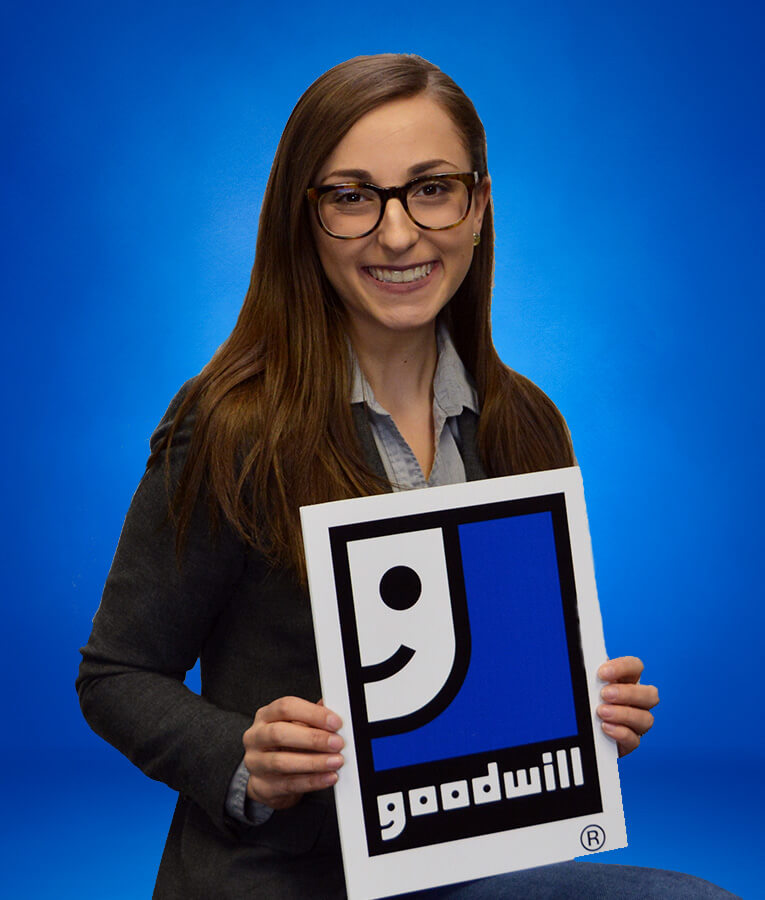 Sabrina Huot
Committee: Finance and Audit
Sabrina is an active philanthropist, volunteering with organizations such as You Can Ride 2, the MacEwan University Office of Sustainability and World Merit Edmonton. She is looking to expand on her education, as she is pursuing a Bachelor of Commerce degree at MacEwan.
Her youngest sister and cousin both have Cerebral Palsy and have inspired Sabrina to join the Goodwill Board of Directors so she can help not only her family, but all Albertans with disabilities, enhance their lives through meaningful employment.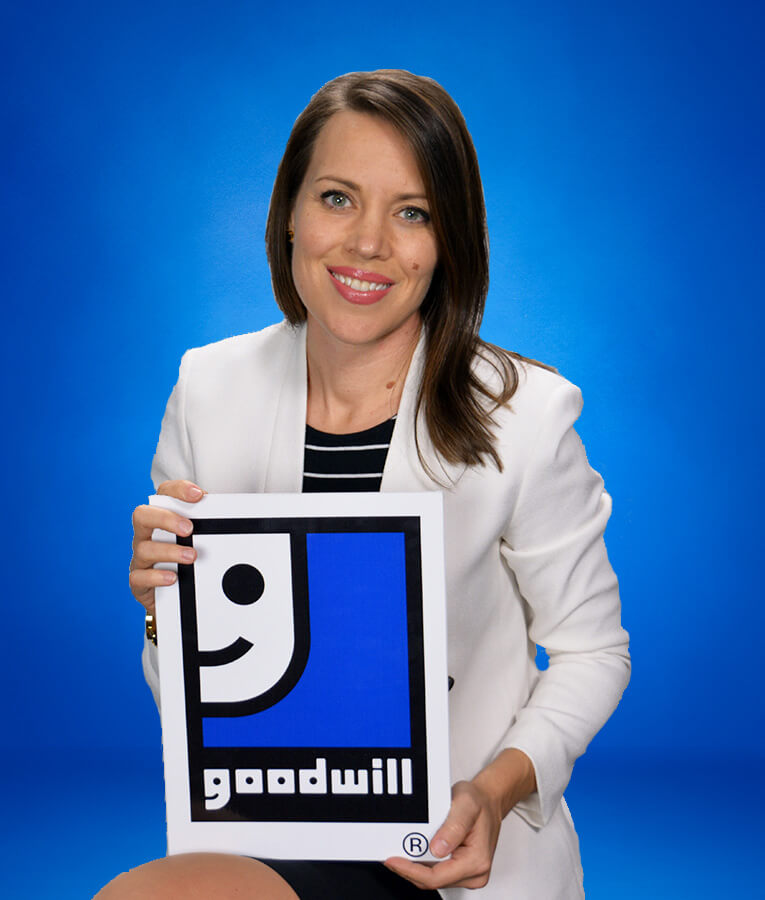 Terri Muhlbeier
Committee: Finance and Audit
As long-term resident of the Edmonton community, Teri has been actively involved in volunteering throughout her life as a mentor, board member and chair of fundraising events. Her career has included accounting and leadership positions in non-profit, public and the private sector.
Terri is always looking for opportunities to give back. She joined the Goodwill board because she believes in their mission and wants to help enhance the lives of people living with disabilities.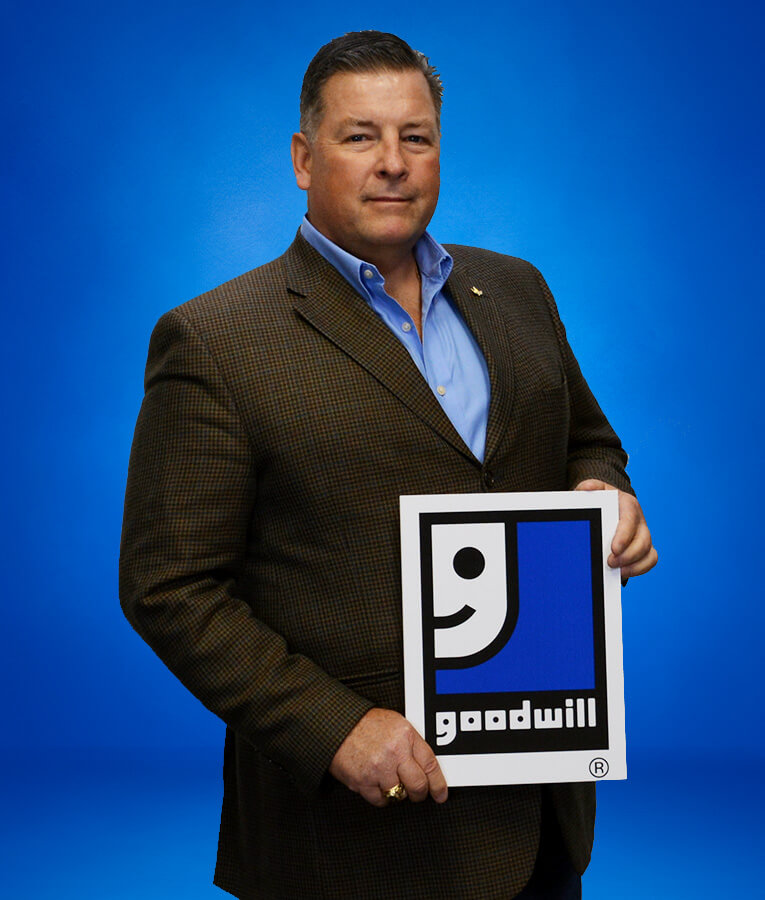 Brad Severin
Committee: Finance and Audit
Brad is a Chartered Accountant with a focus in planning for owner-managers of Canadian-controlled private corporations.
He joined the Board of Goodwill as a way of contributing to the social fabric of a community that has provided so much to his family. He has a strong belief in the responsibility of business, providing persons with disabilities meaningful opportunities for employment and development in pursuing a productive existence.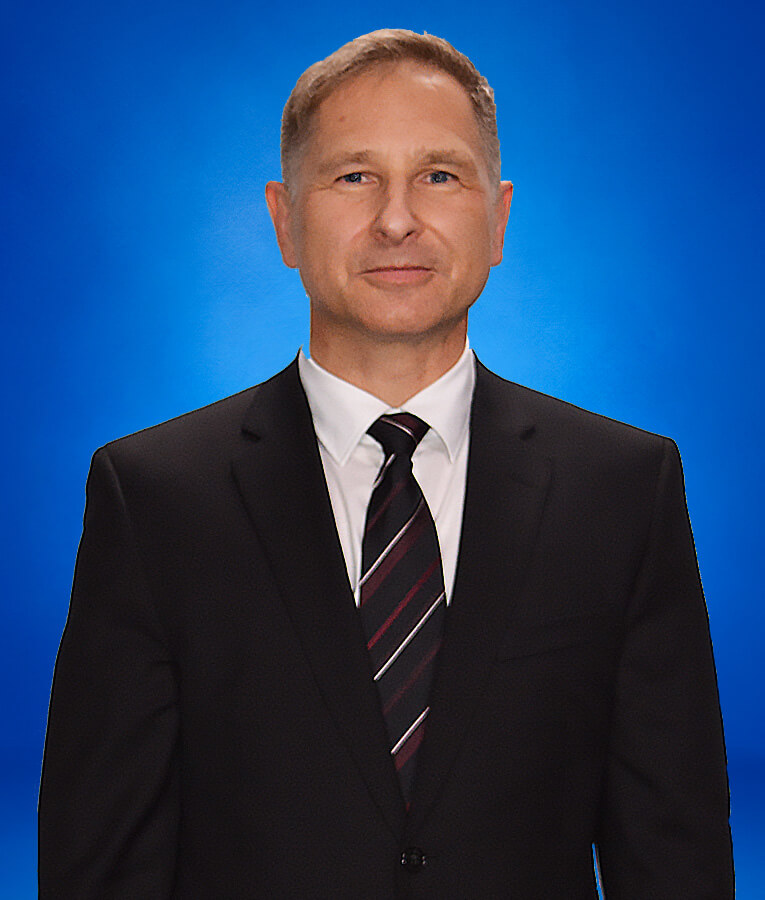 Werner Pietrzyk
Committee: Finance and Audit
Working and living out of Edmonton, Werner's experience spans from accounting and finance to strategic planning and budgeting.
Werner joined the Goodwill team because of the mission and the business model of the social enterprise. Given his experience working in a cooperative system he felt he was in a good position to help add some additional value to an already amazingly well-managed organization.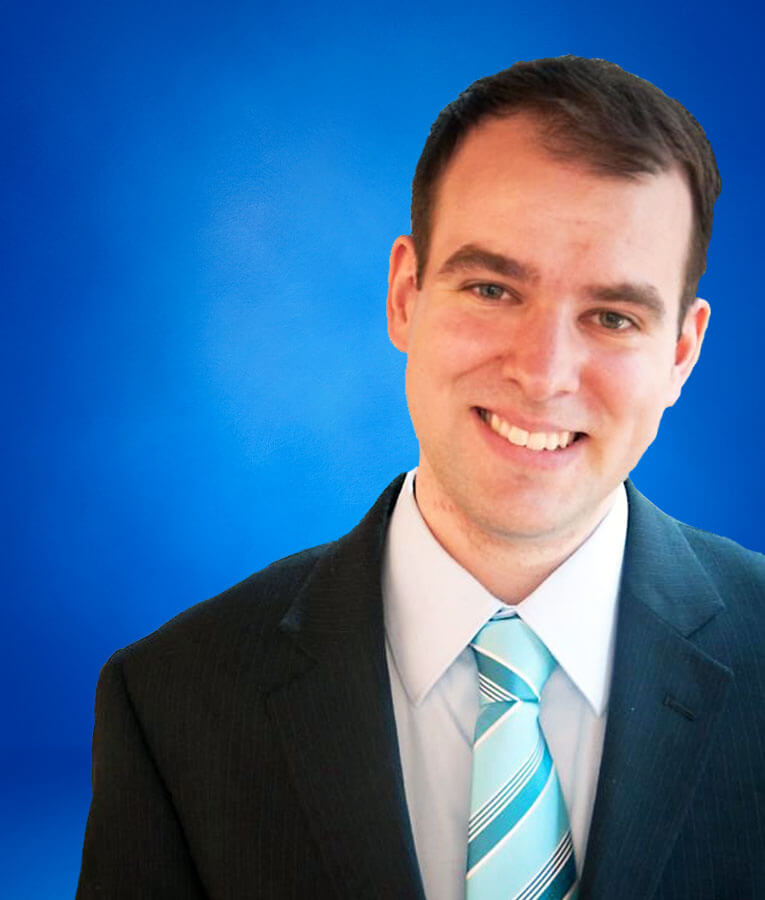 Paul Pryce
Committee: Governance
As an active volunteer, Paul has served as Provincial Advocate for Cystic Fibrosis Canada and was a board member at several non-profit organizations, such as the Rocky Mountain Symphony Orchestra and the Alberta Council of Technologies.
Paul currently serves as the Political & Economic Advisor to the Consul General of Japan in Calgary, as well as Principal Secretary to Japan's Ambassador-at-Large for Arctic Affairs.
Paul was drawn to Goodwill's mission, helping people reach their full potential through learning and the power of work.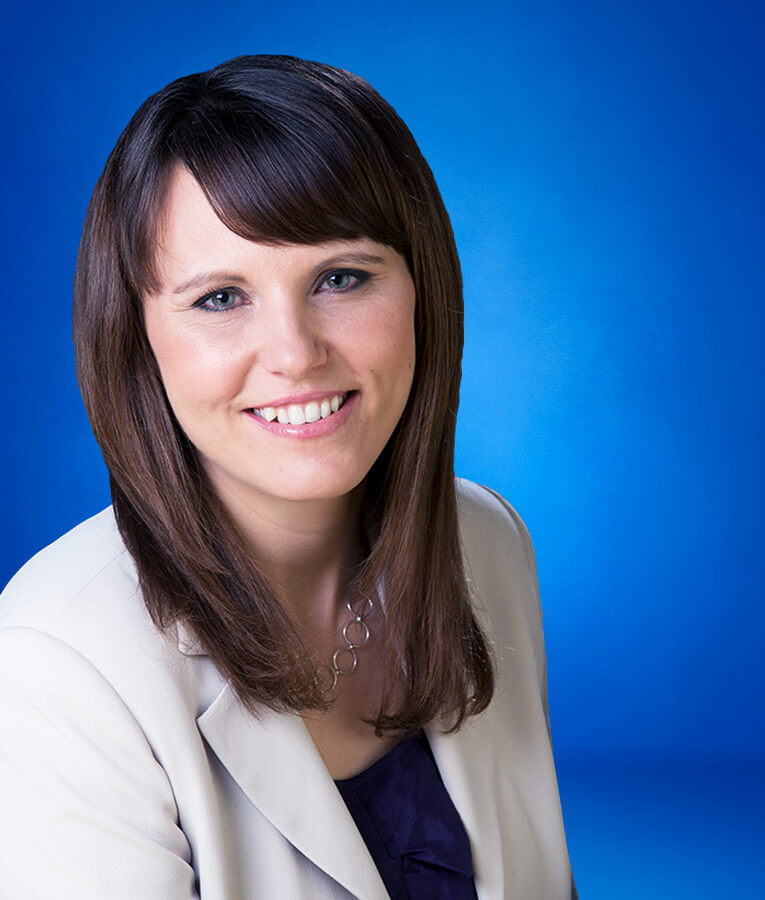 Jodi Tomchyshyn London
Committee: Governance
Jodi has over 16 years' experience encouraging and advancing best practices and policies related to waste minimization, recycling, and a circular economy.
She currently owns and operates JTL Squared Consulting Inc. specializing in overseeing and implementing product stewardship programs and extended producer responsibility programs, encouraging waste minimization.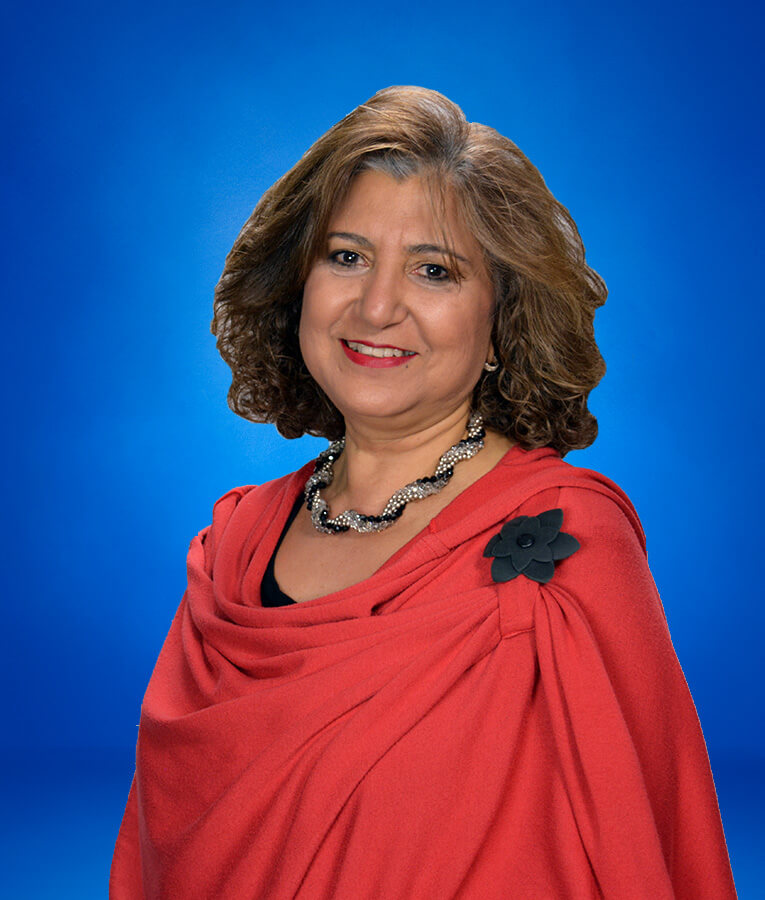 Mirande Alexandre
Committee: Governance
Specializing in "building credible capacity," Mirande is helping professionals strategize, obtain government funds and manage their portfolios. Over her career of 25 years, she has worked in various capacities for the Canadian government and has worked internationally in Jordan and Mexico.
Mirande was recognized in 2017 by Radio Canada as the "Pearle" of the francophone community for dedication to assist the community.
Mirande joined the Goodwill board as she thoroughly believes in the organization, mission, vision and values. She strives to assist people with disabilities through her work.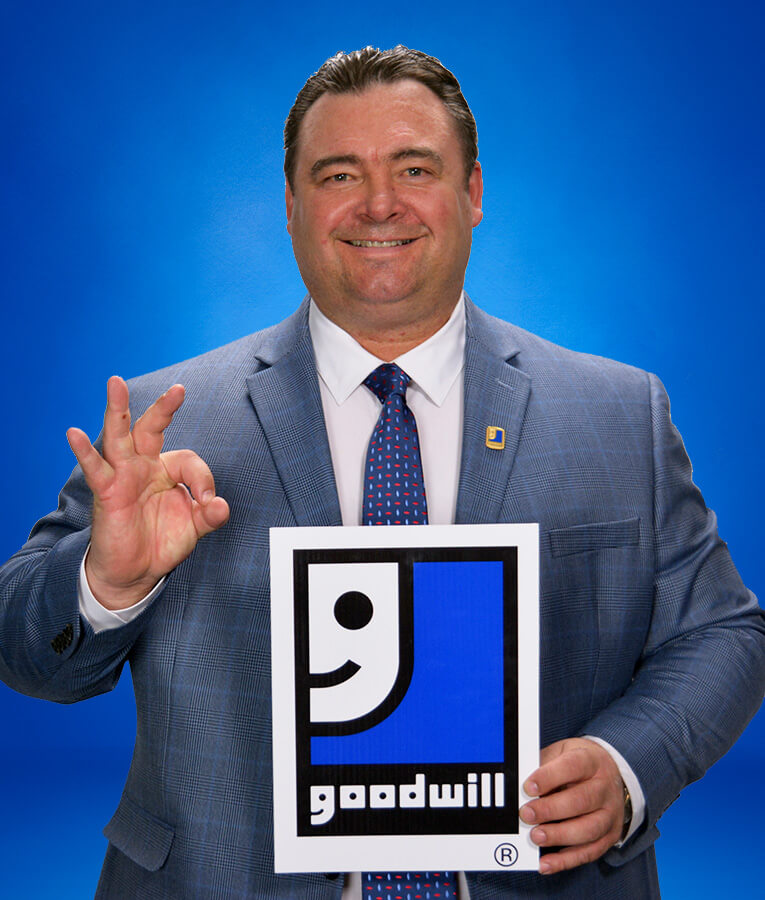 Dale Monaghan | President & CEO
Since coming to Goodwill Industries of Alberta in 2011, Dale has provided significant experience in both business and community development with Goodwill Industries of Alberta. He previously worked with the Mikisew Group of Companies, Alberta Legislature, City of Edmonton and Travel Alberta, providing expertise in business development and marketing at the national and international levels.
Dale is an active volunteer in the community including serving on the Board of Directors for the 2012 Alberta Winter Games and has been involved with the Special Olympics. He continues to push for excellence in community leadership and helping Goodwill provide employment opportunities for individuals with disabilities.
Financial Report 2018
Goodwill is proud to be an equal opportunity employer. In a 2018 staff survey, 30% of Goodwill team members disclosed that they live with a disability. Goodwill spent $3,305,728 on management and administration, equal to 11.3% of total revenues. This means that 88.7¢ of every dollar earned goes directly into supporting our mission.
Thank You
Goodwill Industries of Alberta would like to extend gratitude to the following supporters:
Thank you to the following organizations for your partnership and support of our mission of providing Albertans' with disabilities meaningful employment. Your projects and support of the Path to Employment program have helped bring our mission to life.
Able Maids

Adira Kitchens & Counters

Advance Book Bindery

Alberta Canola Producers

Alumni Affairs – University of Alberta

Atlas Book Bindery

Bon Ton Bakery

City Neon Signs

Craftsman Floors (ALTA) Ltd.

Daniel Keown

Diversity Technology Corp.

Driven Fitness

Granite Worx Inc.

Heron Printing

High Speed Printing

Hughes Petroleum Ltd.

Jasper Auto Parts

Jon Miller

Kyle Harper

L & M Ditching Ltd.

L. E. Silva Installations

Layfield Geosynthetics

Mukai Maromo

Nedco, Division of Rexell Canada

North Central co-op

Rotex Supply Inc.

Royal Furniture Refinishing

Sara Camsell

Screen Craft Industries Ltd.

Sherwood Park Chevrolet

Shopmen's Local Union No. 805

Simonet Woodworking

Solv-X Enterprises Inc.

Stevens & Associates Millwork

Stromiga Inc.

Telus Communications Company

The Finish Line

Tire Shop Plus

Triple 6 Mechanical

United Way of Alberta Capital Region

West Star Signs
Atco Structures & Logistics

Blue Sea Philanthropy

Calgary Stampeders

Chapel Hats Canada

CHIMP: Charitable Impact Foundation

Clearpoint Benefit Solutions

College Hunks

Davies Park & Associates Inc.

DCG Executive Search Services Ltd.

Eddie's Hang-Up Display Ltd.

Edmonton Bicycle Commuters Society

Edmonton Community Foundation

EPCOR – Stefan Kreptul

Edmonton Eskimos

Fluid – A Junior Achievement company

G Squared – Glori Meldrum

GEEP

Ian Swan

JLL

JRoss Recruiters Inc.

June Hui-Chan Professional Corp.

Leokadia Contracting Ltd.

Livewell Benefit Specialists

Olejnik Ryszard

Penske Truck Leasing

ReMax Real Estate Spruce Grove

Russ Falk

Sean Kerr

SIRKit Ltd.

Teanna Frederick

The KPMG Foundation

The Benevity Community Impact Fund

The City of Spruce Grove

Timothy Matthews
Goodwill is One of the Largest Employers of Albertans with Disabilities
Lorem ipsum dolor sit amet, consectetur adipiscing elit. Nam sodales elit sed ex accumsan, sit amet accumsan felis ullamcorper. Mauris posuere leo at facilisis bibendum. Class aptent taciti sociosqu ad litora torquent per conubia nostra, per inceptos
himenaeos. In rutrum placerat lectus sit amet vulputate. Vestibulum volutpat sapien sed arcu egestas, quis dignissim purus tempus. Aenean vitae tellus id orci interdum aliquet vel vitae augue. Phasellus blandit lectus a risus pharetra, at venenatis augue interdum. Class aptent taciti sociosqu ad litora torquent per conubia nostra, per inceptos himenaeos. Lorem ipsum dolor sit amet, consectetur adipiscing elit. Nam sodales elit sed ex accumsan, sit amet accumsan felis ullamcorper. Mauris posuere leo at facilisis bibendum. Class aptent taciti sociosqu ad litora torquent per conubia nostra, per inceptos