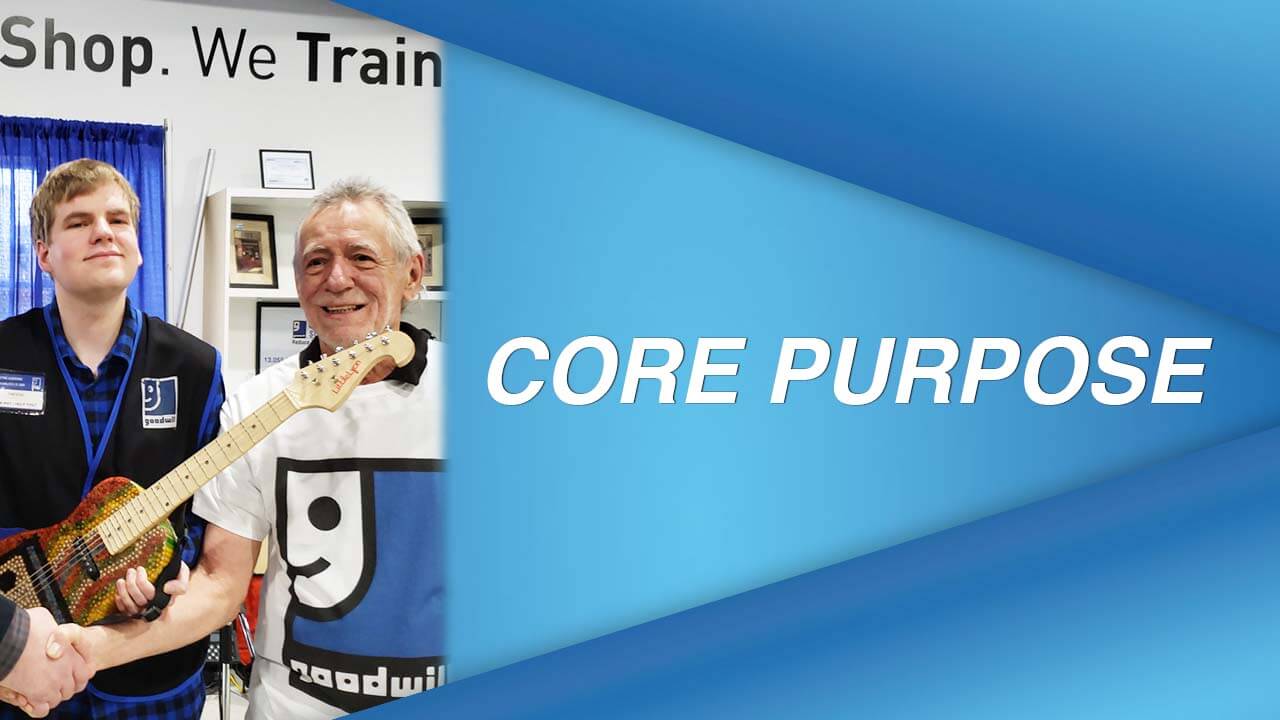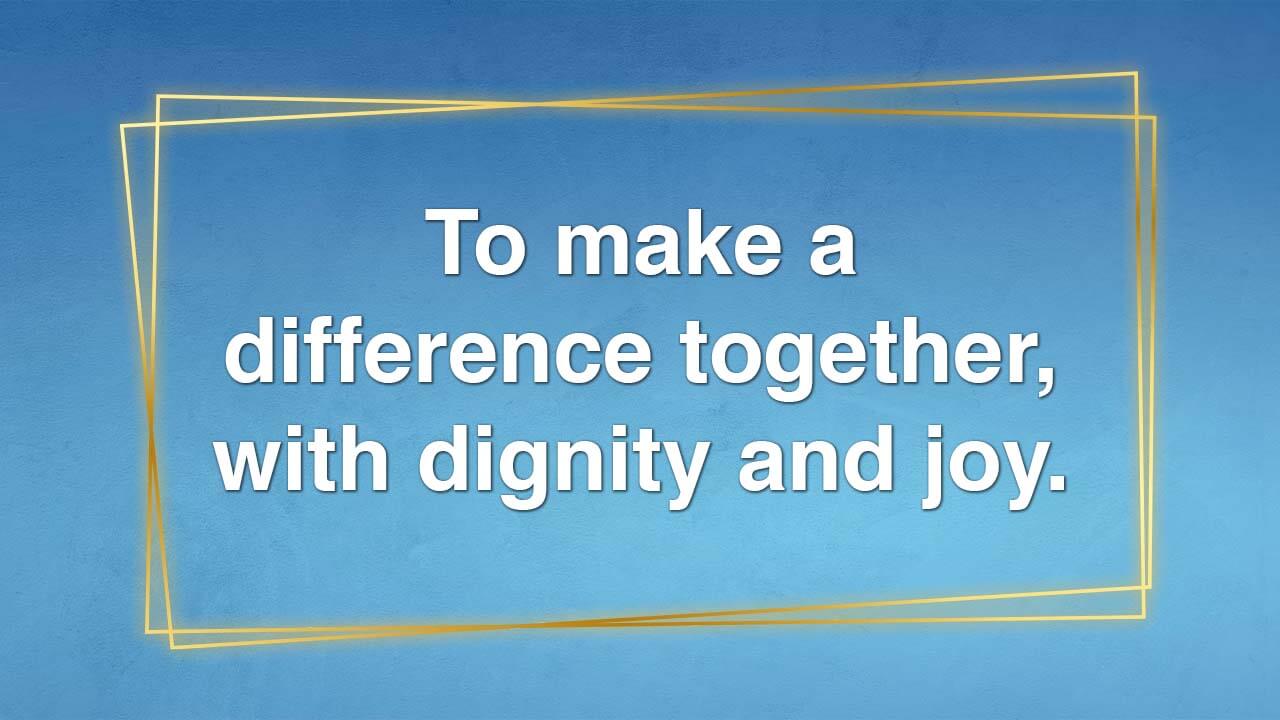 Goodwill Industries of Alberta operates as an independent, community-based nonprofit organization, providing job placement, job training and career supportive services for those with a disability.
With one of the highest employment rates of Albertans with disabilities in the province, Goodwill strives to make an impact in our communities through the power of work and the dignity of a job.
Our values are our moral compass as we strive to make a difference for so many.
From humble beginnings as the Edmonton Rehabilitation Society, for nearly 60 years we have helped thousands find purpose through employment, as we are a people business, strengthening communities and lives for the better.
There are Not-For-Profit organizations and there are For-Profit organizations. Goodwill is proudly a FOR IMPACT organization.
With support from the wonderful community, together we can create a better tomorrow and our tremendous success showcases how those who donate, shop and support Goodwill are in fact, making such a profound difference, day in and day out.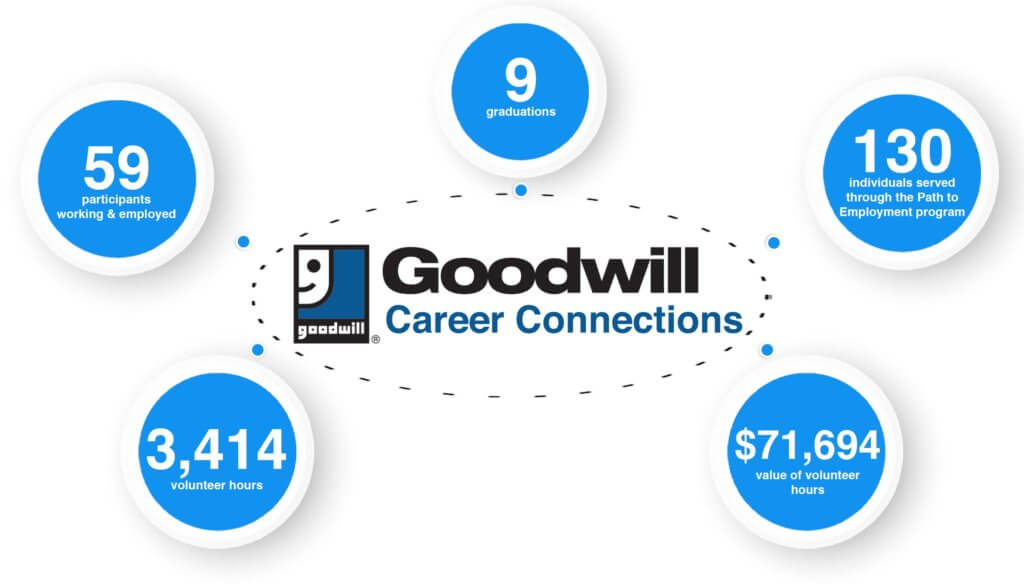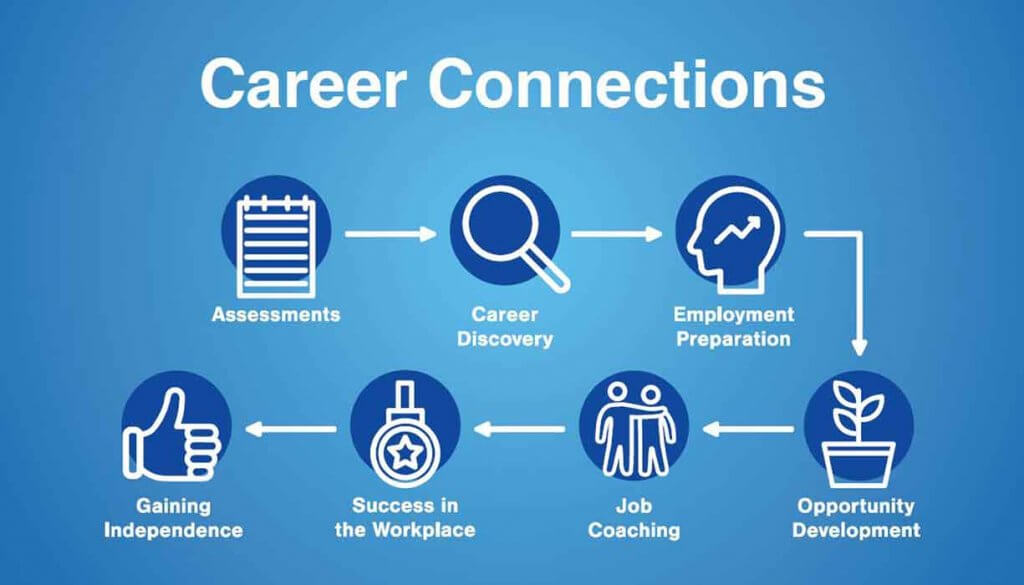 Career Connections is where Goodwill's mission of helping Albertans with disabilities, gain and obtain meaningful employment, comes to life.
With resources in the Greater Edmonton region, individuals are assisted with identifying their employment goals, employment preparation, job search, and employment coaching, with an overall goal of gaining independence.
In January 2020, Career Connections broadened the scope to increase the eligibility of participants to the program. This helps increase potential intakes through the Persons with Developmental Disability criteria.
During COVID-19 lockdowns, Career Connections did suspend activity as a health and safety precautionary measure, working in line with provincial regulations. After a two month temporary closure, services resumed with 94.1% of persons served returning to receiving services.
This temporary measure created opportunity where opportunity didn't exist before. Working in partnership with the Ready, Willing and Able organization, Goodwill helped launch a new service stream. Originally a pilot project, this program re-launched in September with a goal of a creating more employment opportunities for those with a disability.
In 2020, 130 Albertans with disabilities were served through Career Connections. This includes gaining or maintaining paid employment for 59 individuals, creating and maintaining volunteer opportunities for 52 people and graduating 9 people from our program. Based on an assessment in 2019, Goodwill is certified by CARF (Commission on Accreditation of Rehabilitation Facilities) for quality standards until rec-certification in 2022.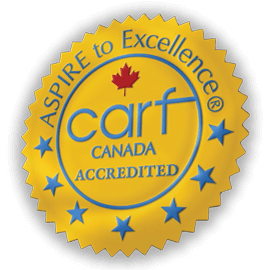 The Career Connections team is an outstanding group of Albertans who are passionate about advocating for a more inclusive society.
With challenges posed by COVID-19, this group has been able to quickly take many meaningful steps towards maintaining and improving the service delivery model with positive results.
Econolube
Econolube in Spruce Grove worked with Goodwill's Career Connection program to place an individual with a disability into a work program. Helping them find their purpose and creating dignity and joy through the power of work!
The Volunteer Hub
Volunteer placements are in a holding pattern or they've been outright cancelled since the pandemic began last year. This left many people without a place to contribute back to the community.
Goodwill's Job Development Team took this challenge head-on and created "The Goodwill Volunteer Hub."

Sustainability initiatives continue to thrive at Goodwill. In 2020, thanks to the positive impact made by the addition of seven new sustainability programs, Goodwill continues an upward trend of diversion from local landfills.
This past year, Goodwill has rolled out the following diversion from landfill programs:
In the Calgary region:
Recycling of razors and razor blades.
Implementation of the Expanded Electronics Recycling Program.
Reuse of glassware and ceramics.
Reuse of audiovisual materials.
Reuse of soft toys.
Reuse of single shoes.
Recycling of plastic food containers; a pilot project at the Goodwill Calgary Regional Office.
In the Edmonton region:
Recycling of razors and razor blades.
Implementation of the Expanded Electronics Recycling Program.
Thanks to the support provided by the Alberta Recycling Management Authority (ARMA), Goodwill was able to recycle the following new categories in 2020:

small appliances,
audiovisual,
telecom devices,
power air tools,
games,
electronic toys and
music devices.
As a result of these initiatives and Goodwill's commitment to sustainability the diversion rate across the province once again increased from 85% in 2019 to 86% in 2020. This meant that 15,125,461 kilograms were diverted from the landfills, even with a hiatus of two months due to COVID-19. This is a huge accomplishment considering all the market disruptions and change in procedures experienced in 2020.
Calgary Throw 'n' Go
Goodwill Industries of Alberta was the selected partner for the collection of textiles at the East Calgary, Spyhill and Shepard Throw 'n' Go facilities in Calgary.
Clothing and textiles are donated, reused or recycled depending on their condition.  Materials are sorted, cleaned and can be turned into wiping rags or shredded down for upholstery stuffing or fiber recycling.
All dropped-off clothing and textiles are organized by Goodwill.
Thanks to this partnership with the City of Calgary, 13,225 kilograms of textiles were diverted from local landfills.

The Alberta Business Awards of Distinction (ABAD) recognize businesses/organizations that have demonstrated outstanding achievement and contribution to their community while having developed business acumen & management practices to ensure long-term sustainability.

This past year, the competition was fierce as the ABAD received 269 submissions for 13 categories, with Goodwill Industries of Alberta being a finalist.

On October 9, 2020 during a LIVE Virtual award ceremony, Goodwill was proudly nominated for the Diversity Award of Distinction. This award recognizes an inclusive business/organization which demonstrates best practices in recognizing and appreciating diversity so that employees, clients, customers and others are respected and valued as unique individuals.

The proud recipient of the award, CarePros, based out of Edmonton, Alberta, exemplified these characteristics and Goodwill strives incorporate some lessons learned into achieving greater success in the role of diversity.

Congratulations to the other organizations and nominees for this prestigious award, as their hard work continue push for greatness in Alberta. Award winners and finalists exemplify creativity and innovation through new models of organizational effectiveness, collaboration, and program delivery.

To date, over 300 companies have been named Alberta Business Award of Distinction recipients. There are currently 13 diverse award categories, with an additional Alberta's Best of Business Award. For more information please visit: https://abbusinessawards.com/

The Nature Inspiration Awards recognize individuals and organizations whose specific projects encourage Canadians to take an interest in natural history, create links with nature and contribute to its preservation.

Goodwill Industries of Alberta continues striving for sustainable and environmental success and was nominated for this national award in the category of non-profits.

The proud recipient of the award, the David Suzuki Foundation, based out of British Columbia, exemplified these characteristics and Goodwill strives incorporate some lessons learned into achieving greater success in the role of sustainability.

Congratulations to the other organizations and nominees for this prestigious award, as their hard work continue push for greatness throughout the country. Award winners and finalists exemplify creativity and innovation through new models of organizational effectiveness, collaboration, and program delivery.

The success of our sustainability initiatives continues to generate positive recognition throughout the country as this nomination builds on the previous success of our award-winning organization. In previous years, Goodwill's sustainability action plan has been the recipient of an Alberta Emerald Award, a Calgary Chamber of Voluntary Organizations Innovation Award and a Recycling Council of Alberta Award in the 3R's of excellence.

Goodwill Industries of Alberta has first handily seen the impact of inclusive employment, the power of a job and the dignity of a job on the lives of Albertans with disabilities. Our Career Connections Team, supports people with disabilities in locating employment or volunteer opportunities in their communities. Individuals are assisted with identifying their employment goals, employment preparation, job search and employment coaching.

As one of Alberta's largest employers of people with disabilities, Goodwill is proud to be a supporter of Disability Employment Awareness Month (DEAM) and its month-long activities throughout Alberta.  Taking place each October nationally and provincially, DEAM, is a campaign and event that works to promote inclusion within the job market for people with disabilities. DEAM raises awareness of the challenges faced by people with disabilities while celebrating the impact and contributions of these workers.

The month long celebrations wrapped up in Calgary, with Goodwill nominated for several awards at the year end Gala.

For more information on Calgary's DEAM Celebrations, please visit:  http://www.calgaryemploymentfirst.ca/deam/

For more information on Edmonton's DEAM Celebrations, please visit: https://pdconnection.org/disability-employment-awareness-month-deam/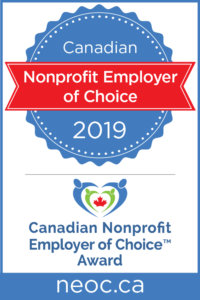 Nonprofit Employer of Choice
The NEOC recognizes nonprofits whose talent management practices support successful mission delivery in the communities they serve.
In a quest to create decent workplaces, we are trying to debunk the myth that employees in the nonprofit sector are willing to work in exchange for the opportunity to do good. Thanks to our strong organizational culture, training and career development, talented people like yourselves are finding meaningful work right here at Goodwill. Your support has made this award possible!

People helping people. Communities rallying in support of one another.
With COVID beginning to make a world-wide impact, Goodwill and the rest of Alberta made a very tough decision. On March 21st, 2020 Goodwill aligned with the advice of Canada's public health authorities and implemented their recommendations on procedures and protocols.
For the first time in almost 60 years, Goodwill made a very difficult, yet honorable decision to temporarily close the thrift retail stores and donation centres across the province to keep our friends, family and team members safe from an impending health crisis. A government lockdown took precedent shortly after lasting 52 days.
This temporary measure was in place to ensure we continue to look out for our staff, people who frequent Goodwill and people with disabilities.
During this time, Goodwill asked the public to hold on to their donations and resist the urge to spring clean, as the resources were not in place during this timeframe.
On May 9th, after approval from the provincial government and COVID safety precautions put in place, Goodwill was able to open donation centres across Alberta. Retail stores followed shortly after, re-opening in a safe and cautious manner.
By June 7, 2020, all facilities were operational once again, delivering hope and optimism for the Goodwill mission of helping those with disabilities to find employment.

Guitar made of pencil crayons comes to Goodwill
Sometimes the Goodwill hunt is inspired by your imagination. This is exactly what happened to a retired inner-city elementary teacher. Bryan Rosychuk recently built something unique using only items he found at Goodwill.
Rosychuk built TWO custom-made guitars using pencil crayons and items he found at Goodwill retail outlets in Alberta. All pieces (aside from one tiny piece) were bought within the various retail locations and built at home. It took Rosychuk months to source out the materials and build the guitars. Rosychuk sourced out 1200 Laurention/Crayola pencil crayons and cut them down to 1¾.

His love and admiration for Goodwill didn't stop there either. He has even written and performed TWO songs for Goodwill with his big hit titled "Goodwill Special." (Based off the very popular Goodnight Special by CCR).
Arctic Narwhal Tusk Donated
Goodwill receives unique donations daily, but none are as a rare as as an ivory tusk from a Narwhal whale in Canada's Arctic regions.

The tusk came with hunting tag that dates back to 1978 and is about 24 inches in length. For centuries in Inuit communities, narwhals have provided food for those in the Arctic and have supplied materials for day-to-day living. The narwhal hunt is significant as it provides both food and income, particularly in isolated Arctic communities, where employment opportunities are very scarce for families involved in hunting.  Items like these are a fundamental part of Indigenous Culture and History and must be preserved.
As a social enterprise, we are thankful of the donation to help the betterment of our community in Alberta, and are looking to honour the tusk's cultural significance. After speaking with multiple local organizations, Goodwill is pleased to announce that the tusk will be given to the Arctic Institute of North America, located at the University of Calgary, who is committed to preserving the tusk's historical and cultural integrity.
The artifact will create a better learning opportunity about this history of our great white North.
A Rare Goodwill Find
In January of 2020, our organization received a generous donation in the form of a hand-made, seal skin jacket from the 1960's. The jacket has never been worn and is in pristine condition. Our staff found the jacket while sorting through a variety of donations and notified senior leadership because it was immediately recognized for its cultural and historical significance.
As an organization we continue to build more information on the jacket, but we do know some information. This jacket was created in Ulukhaktok, Northwest Territories in the 1960's by Holman Coop. The founding of these cooperatives was encouraged by the Canadian Government in 1950's, intended as ad agencies for selling Inuit art to outside markets as a means to support their community. This became a way of life for this community in order to support their fellow-man.
These jackets were made in a commercial setting and haven't been produced since 1980. Items like these are a fundamental part of Indigenous Culture and History and should be preserved.
Currently Goodwill Industries of Alberta is working with many people and institutes across Canada to find the proper way to honor the intent of the donation (providing revenue generation for our mission of providing job creation and career development for Albertans with disabilities), while simultaneously honoring the cultural significance of the jackets and its Inuvialuit heritage.

Collaboration and strategic partnerships are fundamental to improving business outcomes. Partnering pushes platforms and products into new markets, exposes brands to new constituencies and enables companies to leapfrog the traditional barriers of expansion and scale by using the core competencies of each partner.
In 2020, continued partnerships with College H.U.N.K.S., Aquatera, ATB Financial and You Can Ride 2 propelled Goodwill to find new partnerships within the community. Enter Peavey Mart, the United Way and a variety of local, volunteer led, community operated organizations helping to make an impact through donation drives.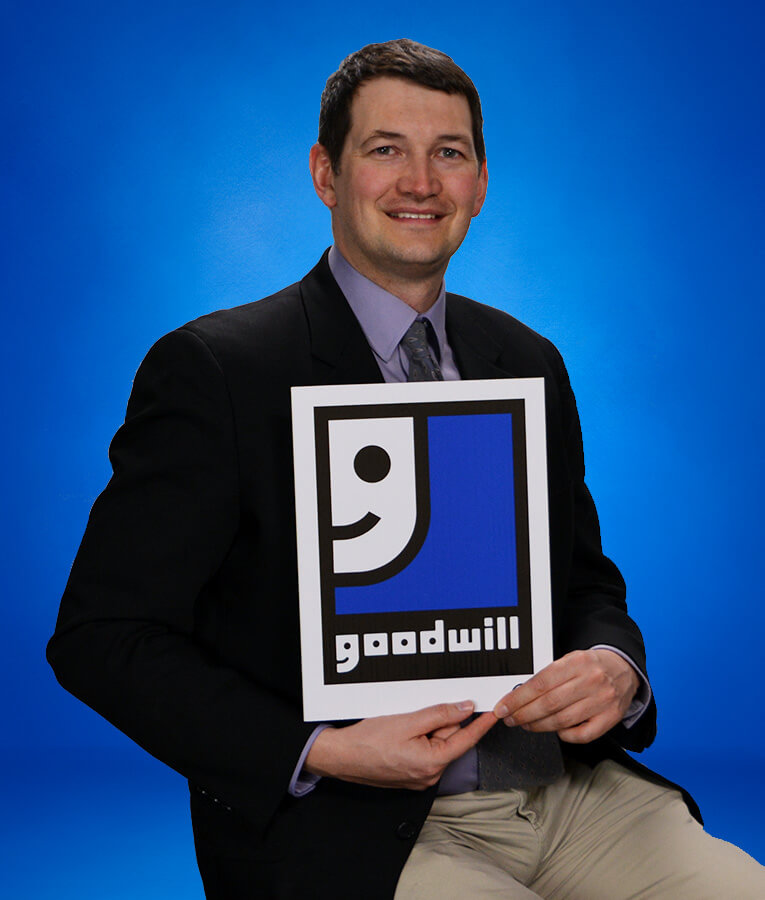 Kevin MacDonald | Chair
Committee: Chair, Executive Ex-Officio, All
Kevin is the newest Board Chair of Goodwill Industries of Alberta. He is the Founder and Business Consultant at L6S Business Consulting, helping business owners with overall planning, strategies and increasing operational efficiencies and profitability. Over Kevin's career, he has taken on various roles which allowed him to lead the IT, Human Resources and Accounting departments of various companies.
Kevin has a family member that is legally blind and suffers from a mental illness. The sleepless nights, frustrations, and heart ache that Kevin's family has gone through is the reason that Kevin joined the Board of Goodwill. If one less Albertan family doesn't have to go through the same emotional roller coaster, Kevin sees him time at Goodwill as successful.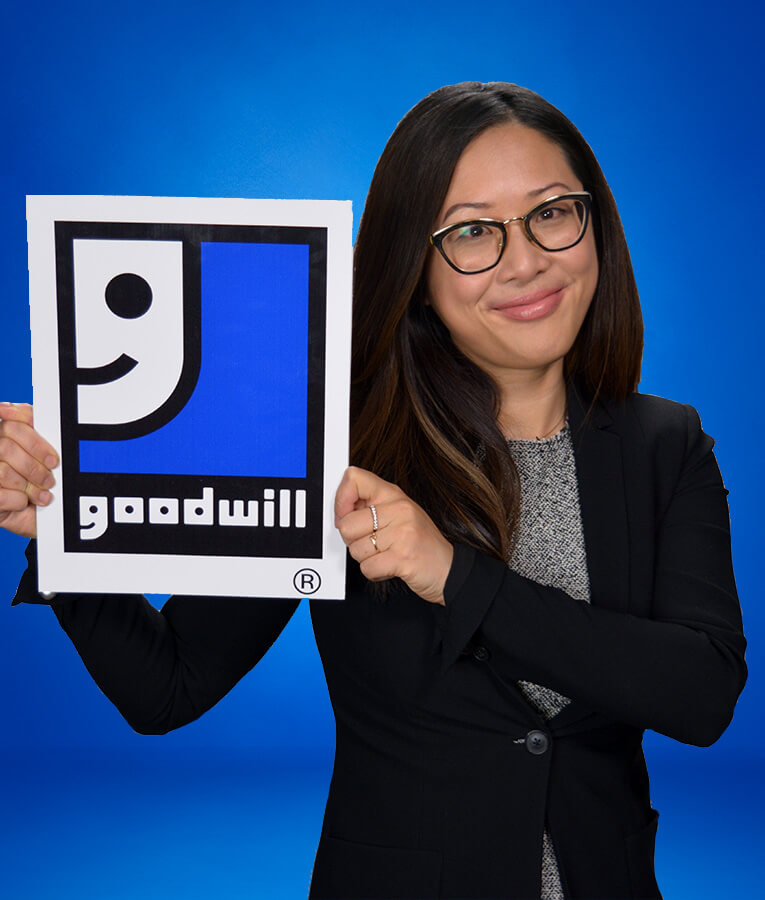 Dorothy Chan | Vice Chair
Committee: Chair, Finance and Audit Executive
Dorothy is a Chartered Professional Accountant, financial leader and business partner with a history of working in environments that are going through aggressive growth and rapid change. She has worked with a diverse portfolio of organizations navigating through high growth and restructuring while fostering internal innovation.
Dorothy believes in giving back to the community and is honoured to be serving on the board.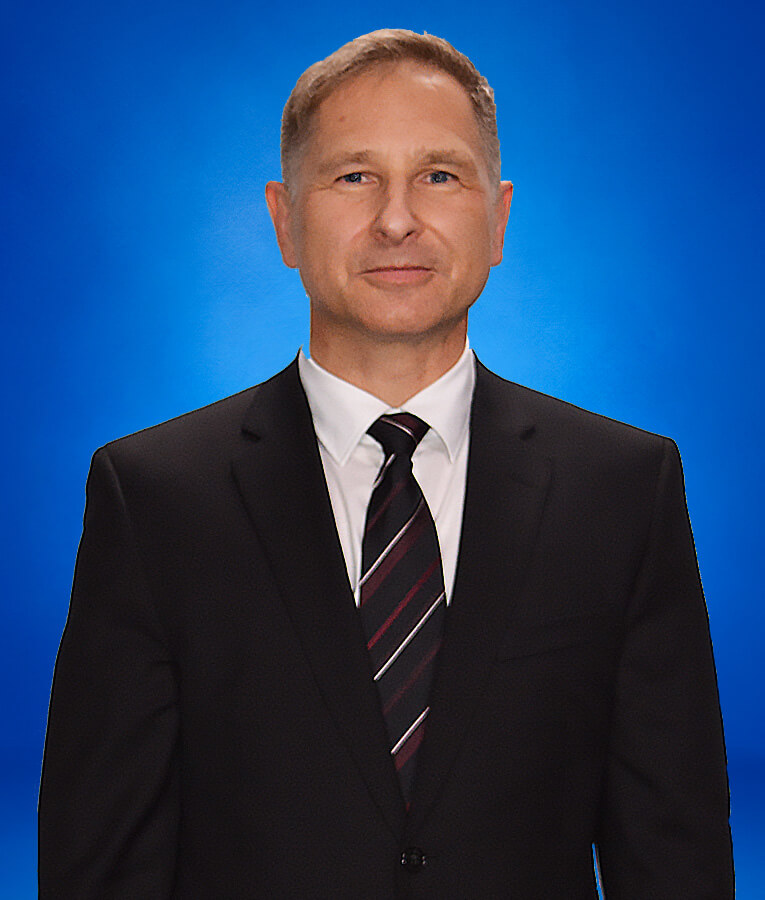 Werner Pietrzyk
Treasurer
Working and living out of Edmonton, Werner's experience spans from accounting and finance to strategic planning and budgeting.
Werner joined the Goodwill team because of the mission and the business model of the social enterprise. Given his experience working in a cooperative system he felt he was in a good position to help add some additional value to an already amazingly well-managed organization.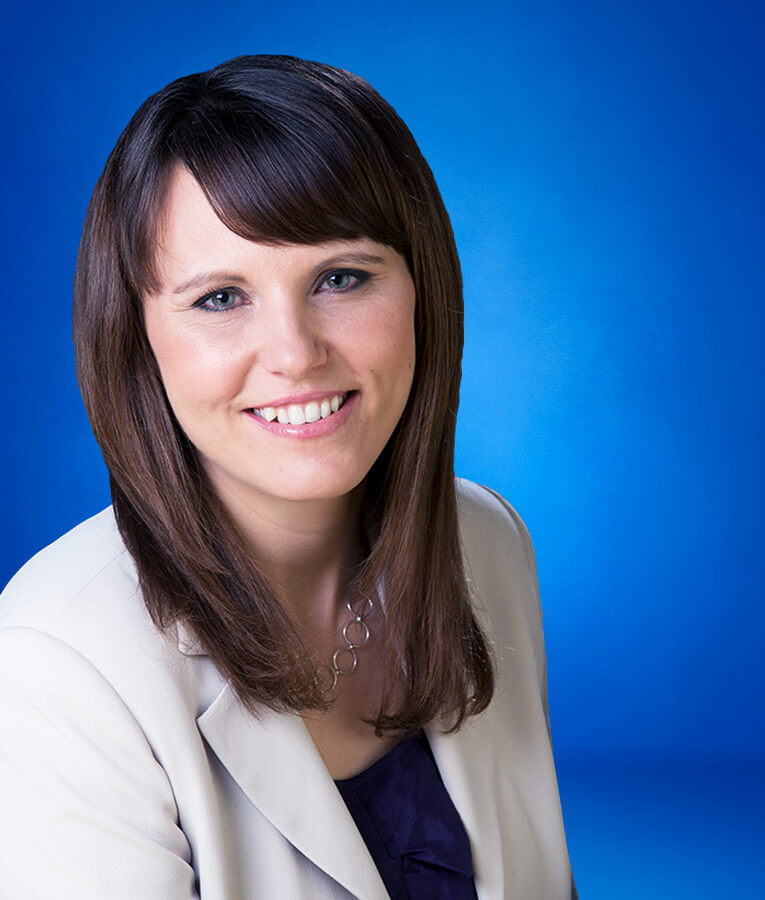 Jodi Tomchyshyn London
Committee: Governance
Jodi has over 16 years' experience encouraging and advancing best practices and policies related to waste minimization, recycling, and a circular economy.
She currently owns and operates JTL Squared Consulting Inc. specializing in overseeing and implementing product stewardship programs and extended producer responsibility programs, encouraging waste minimization.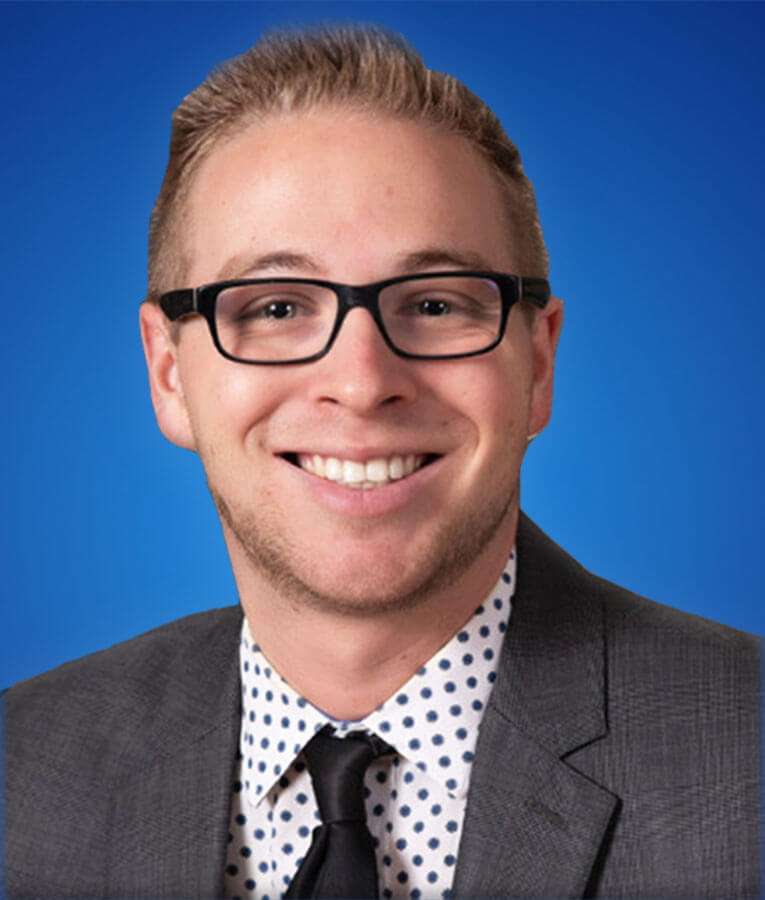 Steven Trottier
Committee: Governance
Steven is excited to be part of the Goodwill community and brings previous Board experience from numerous Calgary-based non-profit organizations.
As the Director of Temporary Recruitment for TAG Recruitment Group, based in Calgary, he is passionate about helping Albertans find great careers and working with employers to strategize their hiring needs.
Educated in India, Europe and Canada, Steven has travelled to over 35 countries and looks to brings an international perspective to his work.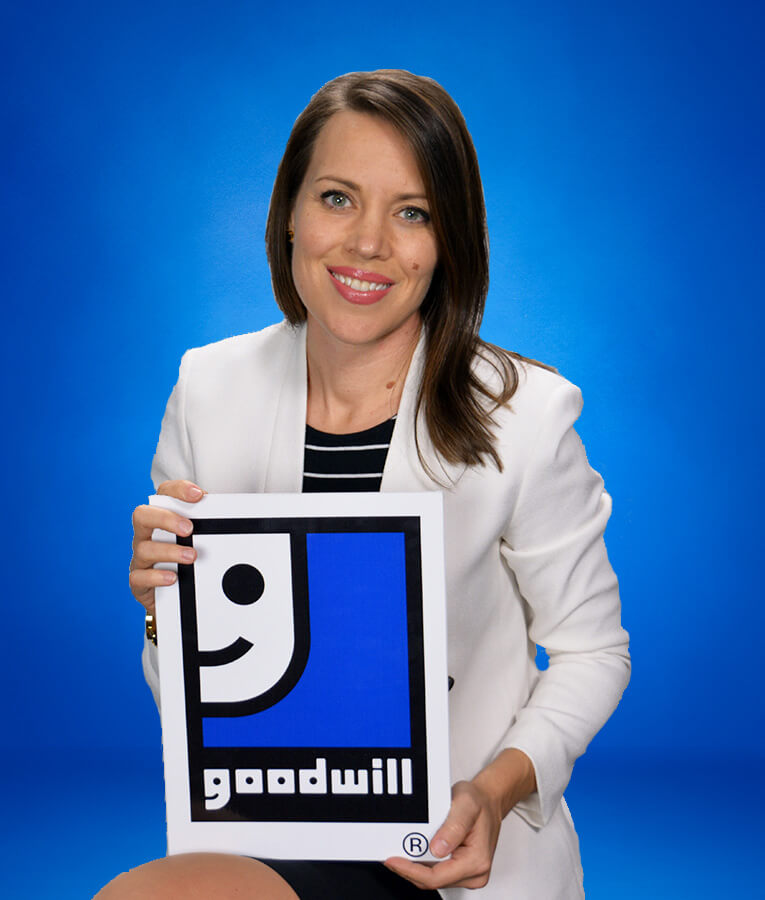 Terri Muhlbeier
Committee: Finance and Audit
As long-term resident of the Edmonton community, Teri has been actively involved in volunteering throughout her life as a mentor, board member and chair of fundraising events. Her career has included accounting and leadership positions in non-profit, public and the private sector.
Terri is always looking for opportunities to give back. She joined the Goodwill board because she believes in their mission and wants to help enhance the lives of people living with disabilities.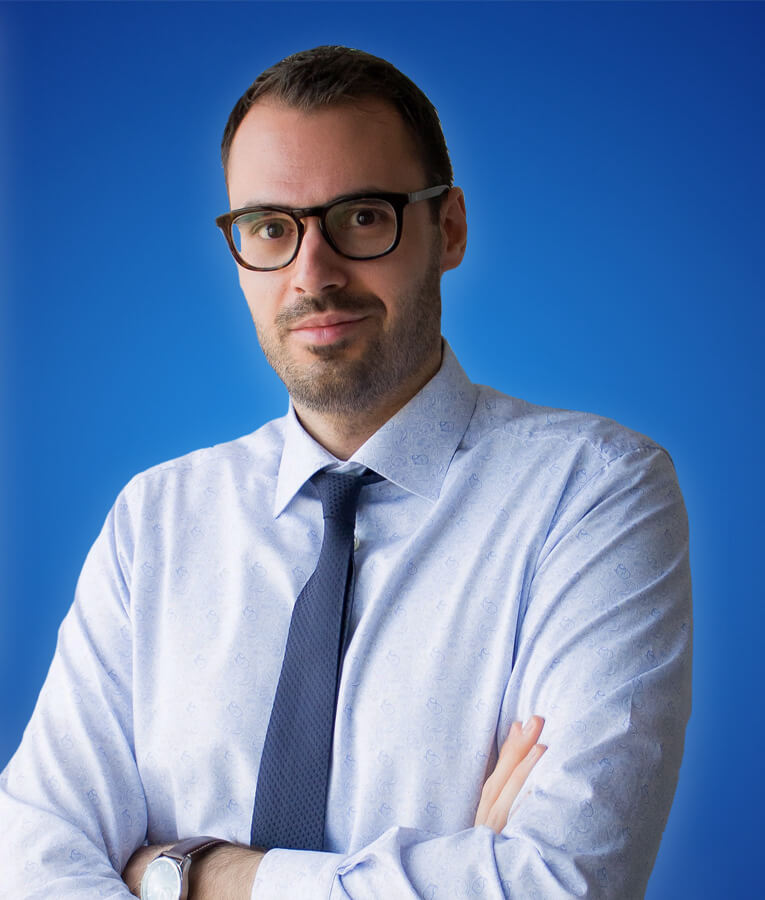 Paul Osbaldeston
Committee: Governance
Paul has a history of community involvement, having previously volunteered with Muscular Dystrophy Canada, Student Legal Services, the University of Alberta Faculty of Law, and the Business Link Edmonton where he provided pro bono legal services to Edmonton area entrepreneurs.
Currently Paul is in-house counsel to Alberta Innovates, where he practices general corporate/commercial law. Paul has experience and achievement in the areas of contract law, privacy law, IP, and regulatory compliance. In addition to his Board work with Goodwill, Paul currently volunteers with the Legal Education Society of Alberta.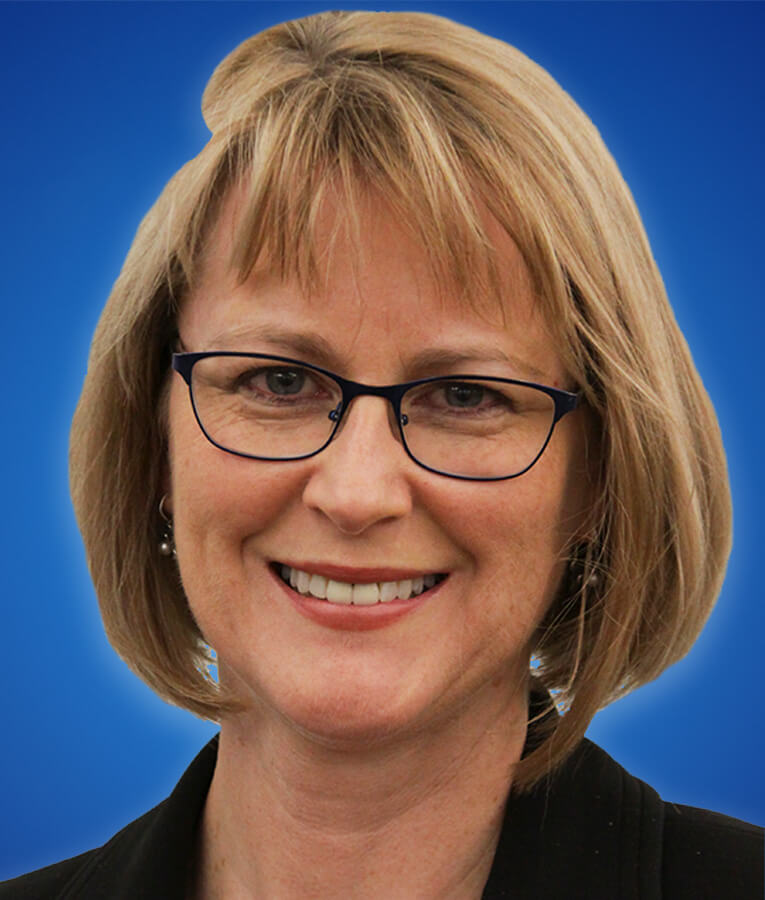 Erin Skinner
Committee: Governance
Erin wants all Albertans to have opportunities for meaningful employment and is proud to serve on Goodwill's board. She believes in the power of work, beyond the paycheque, to positively change lives and build communities.
A life-long Albertan, Erin has family and deep roots in both Calgary and Edmonton.
In her spare time, Erin is an enthusiastic gardener and is a volunteer judge for Communities in Bloom. She also enjoys DIY projects and upcycling thrift finds from Goodwill.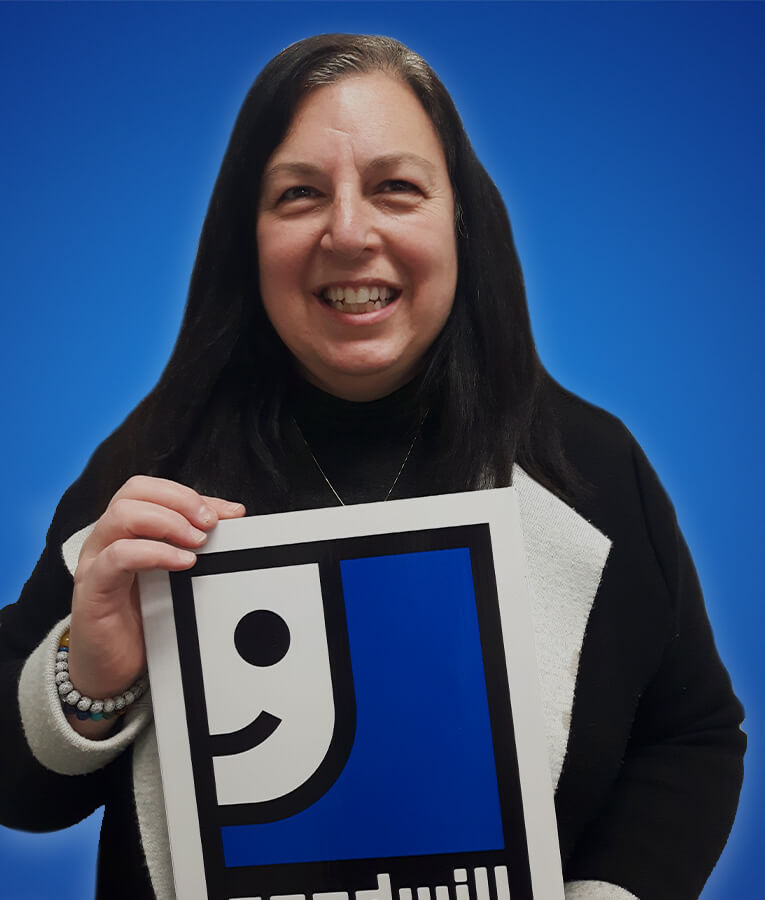 Loradonna Botter
Committee: Governance
Dr. Loradonna Botter brings more than 25 years Human Resources and non-profit experience to Goodwill. She holds a PhD in Organization and Management and has extensive experience transforming organizational cultures.
She develops and implements creative programs and projects to enhance workplace culture, increase cost savings, and assists management with strategy creation. '
In her spare time, Loradonna enjoys volunteering and spending time with her dog, Dallas.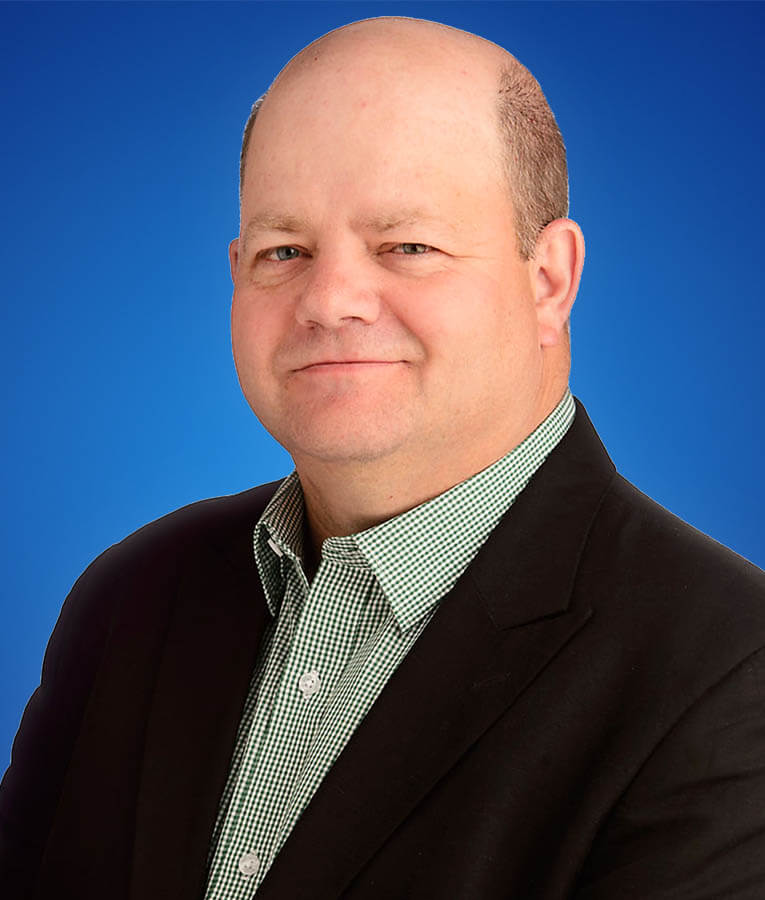 Guy West
Committee: Finance and Audit
For over 29 years, Guy has been involved in the recycling industry in Alberta. As President of Alberta Beverage Container Recycling Corporation (ABCRC), he is an active participant and past president of the Recycling Council of Alberta and has been an enthusiastic member of numerous other waste management and recycling groups.
Guy is also committed to facilitating the development of employees, encouraging growth and stretch objectives. Through both his volunteer activities and in his professional capacity, his goal is to foster transformational improvement in behaviour and values in Alberta's youth.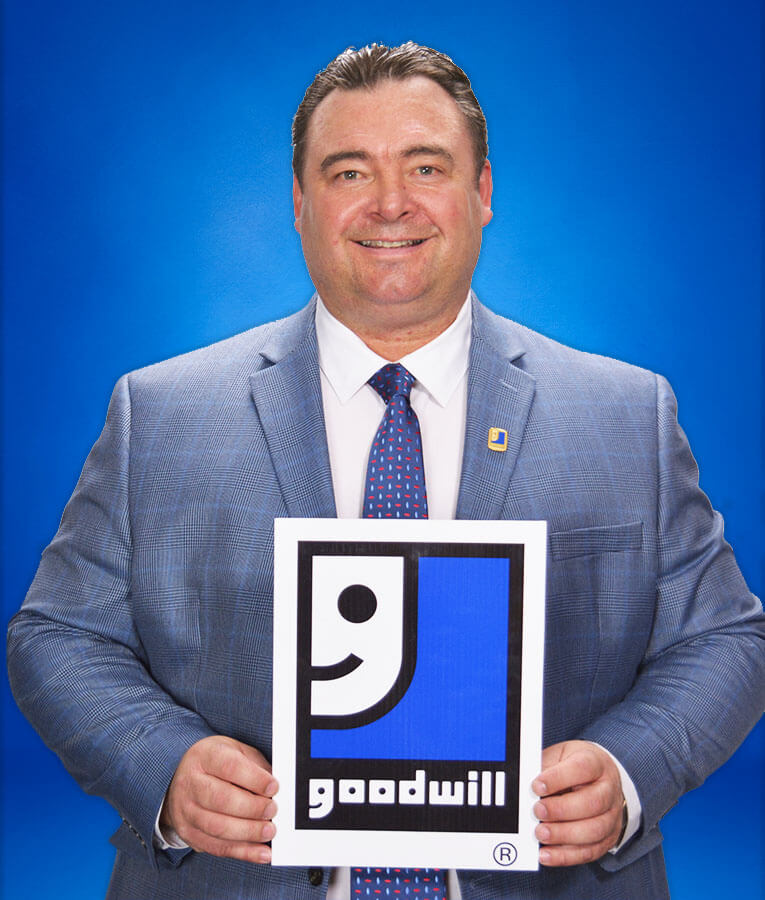 Dale Monaghan | President & CEO
Since coming to Goodwill Industries of Alberta in 2011, Dale has provided significant experience in both business and community development with Goodwill Industries of Alberta. He previously worked with the Mikisew Group of Companies, Alberta Legislature, City of Edmonton and Travel Alberta, providing expertise in business development and marketing at the national and international levels.
Dale is an active volunteer in the community including serving on the Board of Directors for the 2012 Alberta Winter Games and has been involved with the Special Olympics. He continues to push for excellence in community leadership and helping Goodwill provide employment opportunities for individuals with disabilities.

Financial Report 2020
As an equal opportunity employer, 2020 marked a challenging year for most not-for-profits organizations across the province. Thanks to our wonderful donors, our organization received 595,071 donations, marking one of the highest years of donation ever, despite a two month hiatus due to COVID-19. Thanks to our wonderful shoppers, retail sales hit $21,121,102, where 89.2 cents of every dollar goes back to our mission.
GOODWILL INDUSTRIES OF ALBERTA (REGISTERED SOCIETY)
T3010 Charity Return

Goodwill Industries of Alberta is a non-profit charitable social enterprise that depends on support from community and corporate Albertans. We would like to extend our sincere gratitude to the following supporters.
2000519 Alberta Ltd.
Al Shamal Provost Corps Foundation
 Alaa Rahre
Alannah Webb
Alejandra Calvo
Aleta Mendoza
 Alison MacAdam
 Allison Johnson
Alyssa Calliou
Amman Alkhalaf
 Andrea Morris
 Andree Busenius
Andres Camacho
Andrew Slessor
Anita Dingwall
Ann Regier
April Morris
Aron Jamieson
 Ashley Blum
Ayan Ali
Barry Twynam
 Blake Drummond
Bradley Mastaler
Brandy Hanson
 Caidence Nichol
Carole Tonn
Carrie Vande Cappelle
 Cathy Marshall
Cetre – NORD
 Charlotte Pardely
Cheryl Fleming
 Clair Birkman
Clear Focus Financial
Clearpoint Retirement Solutions
CWA Holdings
Darel Neufeld
 Darren Dingwall
Deborah Robb
Donna Hansen
Doris Morin
 Duane Froese
 Elana & Stephen Terry
 Emalus Koroma
 Emma & Sharon Willey
Erin Sigaty
Evan Chapman
Felip Scherbakov
 Gaelle Fotso
Gaelle Teclaire Ndeau Fotso
Geoffrey Ballard
Glenn Buckmaster
Glenn Sawula
Goodlife Kids Foundation
Grainne Mulholland
 Gwyn Brooks
 Habiba Ali Hassan
 Hayden Cardinal
 Heather Thompson

 Hector Rogel
Heidi Lawrence
 Himani Basra
 Iain Fleming
Ismeta Dedic
 Issaac Filpula
J. Clint Busenius
 James Clancy
 Jamie Khau
Jason Burgoyne
Jason Wywal
Jeff Clakins
Jenny Stokes
Jessica Coles
 Jessica Egelston
Jimmy Kuruvilla
 Jing Yang
Joan Demaine
Jody Moffitt
John Edwards
 Joseph Kofi Torpey
Joseph Marki
 Joy Lumague
Juelle Wack
Ka Yi Chan
 Kaiya Pearson Day
 Kathlee Carlson
Kathryn Macmilla
Kathy Stephanson
 Kayaan Pandey
Kaydeane Green
 Kelty MacMillan
 Kelva & Barry Copfensteiner
Keneth Bernardo
Keon Courtney
Kevin James Campbell
 Kim Marki
 Kofi Torpey
 Krista Semchyshyn
Kristin Mcdouall
Kristina Kublik
 Krystle-Elizabeth Caldwell
Larry Johansen
 Leah Bateman
Lee richardson
 Lila & Travis Dieterman
Lilian Huerta
Linda Ann Lawrence
 Linda Urlacher
Livewell Benefits Ltd.
 Louie Kelati
Lyndsey Delwo
Maria Gallo
Marie Denise Isidore
Marjorie M. Pastor
Mark James Johnson
Matthew Gaber
 Matthew Smart

 Matthew/Jenny Stokes
Matus Toth
 Meghan Harrington
Melissa Hartrick
 Melody Audsei Mensah
Michael Edwards
Michael Trigg
Michelle Albert
Michelle Hanson
Michelle Lawton
Michelle Pope
Monique Murphy
Nadia Minet
Nadine Jaber
Nagla Erojbani
Nicole Biner
Nirav Vyas
 Noah Hall
 Noelle Burgess
Nozima Nurmukhamedova
 Ola Al Mogheer
Optimist Club of Beverly
 Parker Ramstad
Patrick Henri
 Quantum Chemical
Quantum Technical
Reid Nichol
Ron Brown
Rupinder Walia
Ruth Benner
 Sandra Shears
 Satnam Sarao
Scarlett Papin
 Sean Roberts
 Semma Ramahi
 Seng Southichack
Shalon Halayko
 Sherri-lyn Meaney
 Stephanie & Lucian Schulte
Stephanie Walker
Sylevine Celia Morgan
Tammy Olson
Tanya Malone
Tessa Bradley
The Benevity Community
Tom Shearer
 Trevor Myles
Tristan Courtoreille
United Way of the Alberta Capital Region
Valerie Sweeting
 Virginia Burke
Vitaliy Chernenko
Wendy Mertz
 Wouter Buyks
 Zoey Aloisio
 Zoey Bradley