A Message from Goodwill Leadership
CEO and Board Chair
Since 1963, Goodwill Industries of Alberta continues to make a difference in the lives of Albertans, strengthening people and communities, through the power of work and the dignity of a job.
As a non-profit, social enterprise, Goodwill is one of the largest employers of people with disabilities in the province, with 30% of the almost 800 team members having a self-disclosed disability. There are Not-For-Profit organizations and there are For Profit organizations. Goodwill is proudly a FOR IMPACT organization.
Goodwill's positive impact begins and ends with community members, as every person who frequents Goodwill contributes to a circular economy. It begins with a donation, where it gets sold at the retail stores. The revenue generated goes to Goodwill, with 89% of the proceeds put into career training and development programs for those with a disability.
For items that do not get sold, Goodwill's Sustainability Action Plan will find a way to recycle the item responsibly, either through recycling partners or upcycling initiatives from Goodwill's Commercial Services department. This plan-initiated recycling through our glassware, ceramic, furniture, cleaning cloths and plastic initiatives, earning recognition from the Emerald Foundation of Alberta and the Calgary Chamber of Voluntary Organizations.
With support from the wonderful community, together we can create a better tomorrow and our tremendous success showcases how those who donate, shop and support Goodwill are in fact, making such a profound difference, day in and day out.
The Career Connections program supports people with disabilities in locating and maintaining employment or volunteer opportunities. Individuals are assisted with identifying their employment goals, employment preparation, job search, and employment coaching.
In 2019, Career Connections served 167 Albertans with disabilities. This includes getting employment for 46 individuals, getting volunteer opportunities for 32 people and graduating 22 people from our program.
Goodwill was once again declared a CARF accredited program through 2022. This signifies that Career Connections has met all the requirements laid out by the Commission on Accreditation of Rehabilitation Facilities for quality standards that enhance the lives of people served.
The Career Connections team is an outstanding group of Albertans who are passionate about advocating for a more inclusive society.
Each team member commits to serve Albertans with disabilities and to enhance their lives through meaningful employment. They genuinely care about inclusion and understand how important it is to feel that you are part of a community. Paid employment, work experiences, and volunteer positions are just some of the platforms where we can help, and we do it with dignity and joy!
Golden Arrow Buses
The team at Golden Arrow Buses modified and found the right positions for the right qualified candidates, while Goodwill helped with Job Coaching and a commitment of helping them gain independence.
Career Connections Graduate
Daniel is a recent graduate of the Career Connections program at Goodwill. Through the program, the 28 year old gained volunteer and employment opportunities  in Sherwood Park, Alberta.
Environmental Stewardship
Based on the triple 'p' bottom line of people, profit with purpose and the planet. Goodwill is in the business of helping people through our mission services, while caring for the planet by reducing our environmental footprint and generating revenue from our sustainable efforts.
In 2019, thanks to support received by ATB Financial and the Sustainability Action Plan, Goodwill was recognized by the Alberta Emerald Foundation and the Calgary Chamber of Voluntary Organizations for the efforts in sustainability, innovation and environmental stewardship as a Non-Profit organization.
As a result of Goodwill's commitment to sustainability, 31,043 kilograms of hard plastics, 82,793 kilograms of glassware/ceramics and 1,021 kilograms of treated wood were diverted from local landfills in 2019. Overall, almost 16 million kilograms were diverted from landfills with the diversion rate increasing to 85% from 81% the previous year.
With the success in the Edmonton region, Goodwill continues to explore a similar venture in Calgary in the coming years.
Recycling Initiatives
New and exciting sustainability projects are constantly being developed with each project helping divert more waste from landfills. Among these new projects, was the plastic bench initiative.
Thanks to the financial contribution provided by ATB, Goodwill Industries of Alberta was able to purchase plastic bins for the sorting of hard plastics and the installation of a plastic granulator required to break down plastic items into small pieces known as plastic flakes. These plastic flakes are used in the recycling process to make plastic benches.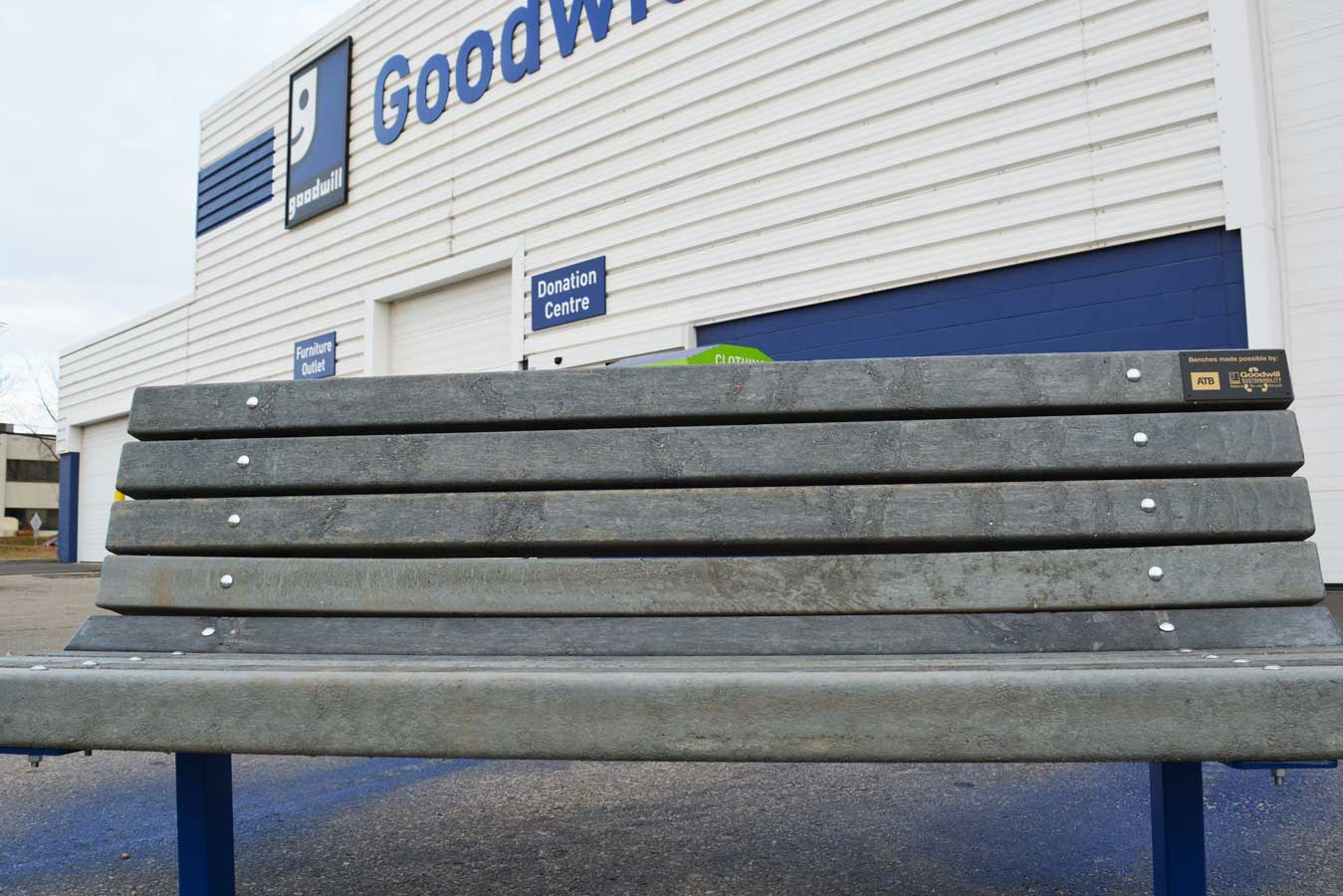 Out of the 31,043 kilos of plastics sorted, granulated or baled at the amazing Edmonton Impact Centre, 1,728 kilos were used for the manufacturing of 16 plastic benches. The plastic benches, manufactured in Lethbridge and using the plastics processed by Goodwill, are the perfect example of the Circular Economy model.  All plastic benches have a plaque highlighting the partnership with ATB.
Partnerships in the Community
Collaboration and strategic partnerships are fundamental to improving business outcomes. Partnering pushes platforms and products into new markets, exposes brands to new constituencies and enables companies to leapfrog the traditional barriers of expansion and scale by using the core competencies of each partner.
In 2019, Goodwill continued their partnership with College H.U.N.K.S. and expanded on an amazing partnership with ATB Financial to enhance Goodwill's sustainability initiatives. A new connection was formed with the Alberta Hotel and Lodging Association, to get more people with disabilities entry to the workplace and community drives with Aquatera helped prevent much relief from local landfills . Each partnership Goodwill is grateful for all the organizations who assist with the mission of providing meaningful employment for Albertans' with disabilities.
Since 2006, the Goodwill Thrift Store and Donation Centre on 169th st. in Edmonton has been a staple in the West end of the capital city.

On May 4th, 2019, the store relocated to 18715 Stony Plain Rd. NW and became the largest Goodwill Thrift Store and Donation Centre in Alberta with over 17,500 square feet of retail space!

Spurred by generous donations from across the community, including Harley Davidson out of Lloydminster, who donated over $7,700 worth of brand new goods, opening day weekend recorded all-time highs in retail sales, meaning more money went back into training programs and career development for those with a disability.

This is a victory for everyone who has support Goodwill since 1963.

Elaine Wenger began working at Goodwill 43 years ago and in 2019 she was ready to hang up her Goodwill jacket. Born with a disability, Wenger is an inspiration to those who look to gain meaningful employment and a symbol of how Goodwill Industries of Alberta can help those find a purpose through the power of work.

Over the years, Wenger worked in various departments, including ironing and merchandising, in Goodwill locations across the Edmonton region. While working at Goodwill, she was able to put herself and her two kids through post-secondary education.

Wenger started at the now-closed 104th Street and 103rd Avenue Goodwill. She retired from her job as a merchandiser at the SouthPark location on Calgary Trail.

She hasn't figured out what she's going to do in her retirement yet, besides a trip to England, a boat cruise, and spending time with her grandchildren.

And of course, visiting her old colleagues at Goodwill.

For more visit: www.cbc.ca/ or globalnews.ca/

A new experience came to people at various markets across the capital city region this year. Led by Liam Maxwell and Katie Bossio, these two summer students expanded their business and knowledge and customer outreach by taking the Goodwill experience on the road.

The pair visited 8 events throughout the summer months, including ones in Spruce Grove and Open Streets in Edmonton. It was a great opportunity for Goodwill to raise awareness of our mission, while showcasing some unique finds that can be found within our retail our locations.

A total of 153 items were diverted from landfills, while our staff interacted with 700 individuals, one on one, giving them a better understanding of how Goodwill operates.
Awards and Recognition
This year, Goodwill was honoured, not once, but twice for our efforts in environmental stewardship, innovation and sustainability. This started in June, as the Alberta Emerald Foundation recognized Goodwill as a leader in Sustainability in the category of Community Group or Not-For-Profit for a Large Organization.  Receiving the award on behalf of Goodwill was President and CEO Dale Monaghan and Board Chair Kevin MacDonald.
This award recognizes associations dedicated to furthering a particular social cause or advocating for a shared point of view that have demonstrated a significant commitment to the environment through their actions.
In October, Goodwill was honoured once again for the efforts in innovation and sustainability, this time at the Alberta Nonprofit Innovation Awards hosted by the Calgary Chamber of Voluntary Organizations.
Goodwill Industries of Alberta was the proud recipient of the 2019 Calgary Chamber of Volunteer Organizations for social enterprise innovation. Receiving the award for Goodwill was President and CEO Dale Monaghan, Vice President of Donated Goods and Retail Fay Wisted, as well as Store Managers from throughout the Calgary region.
The award recognizes innovation and high-performance success with the operation of the Amazing Edmonton Impact Centre and the Sustainability Action Plan, for which ATB Financial is a major supporter of.
These awards wouldn't be possible without the wonderful team members at Goodwill. This is how it success becomes a reality. Each year Goodwill recognizes the accomplishments of team members throughout the province with the Goodwill Greatness Awards.
While there were numerous award winners, Goodwill is proud of the hard work each and every Goodwillian puts forward. Without the entire organization working as a whole, Goodwill would not be able to execute on the mission of providing meaningful employment to Albertans' with disabilities.
Goodwill's Board of Directors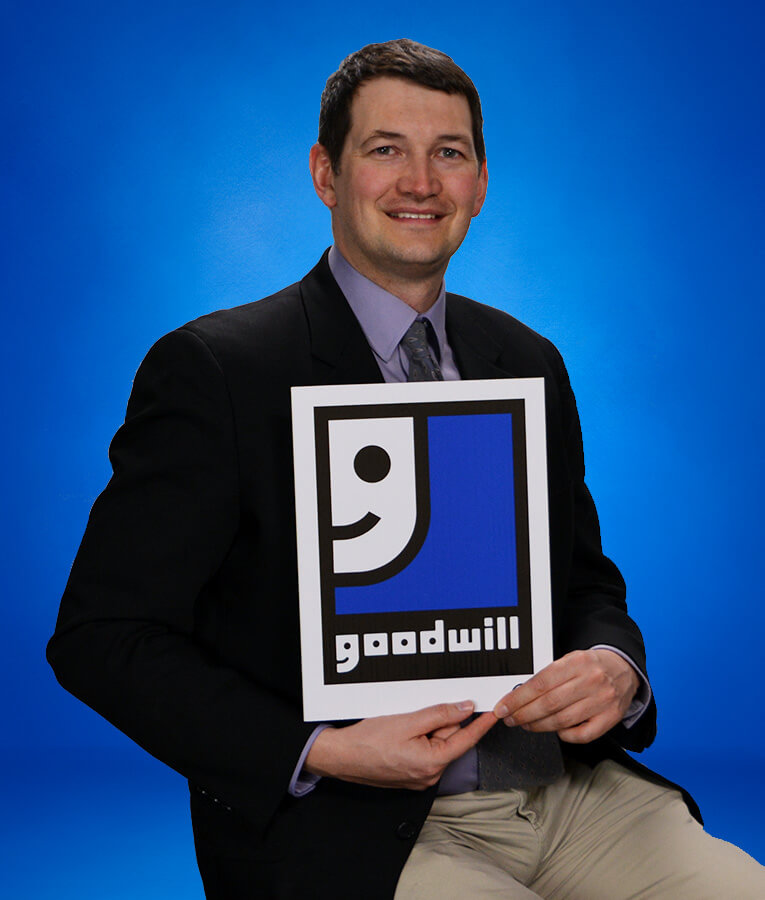 Kevin MacDonald | Chair
Committee: Chair, Executive Ex-Officio, All
Kevin is the newest Board Chair of Goodwill Industries of Alberta. He is the Founder and Business Consultant at L6S Business Consulting, helping business owners with overall planning, strategies and increasing operational efficiencies and profitability. Over Kevin's career, he has taken on various roles which allowed him to lead the IT, Human Resources and Accounting departments of various companies.
Kevin has a family member that is legally blind and suffers from a mental illness. The sleepless nights, frustrations, and heart ache that Kevin's family has gone through is the reason that Kevin joined the Board of Goodwill. If one less Albertan family doesn't have to go through the same emotional roller coaster, Kevin sees him time at Goodwill as successful.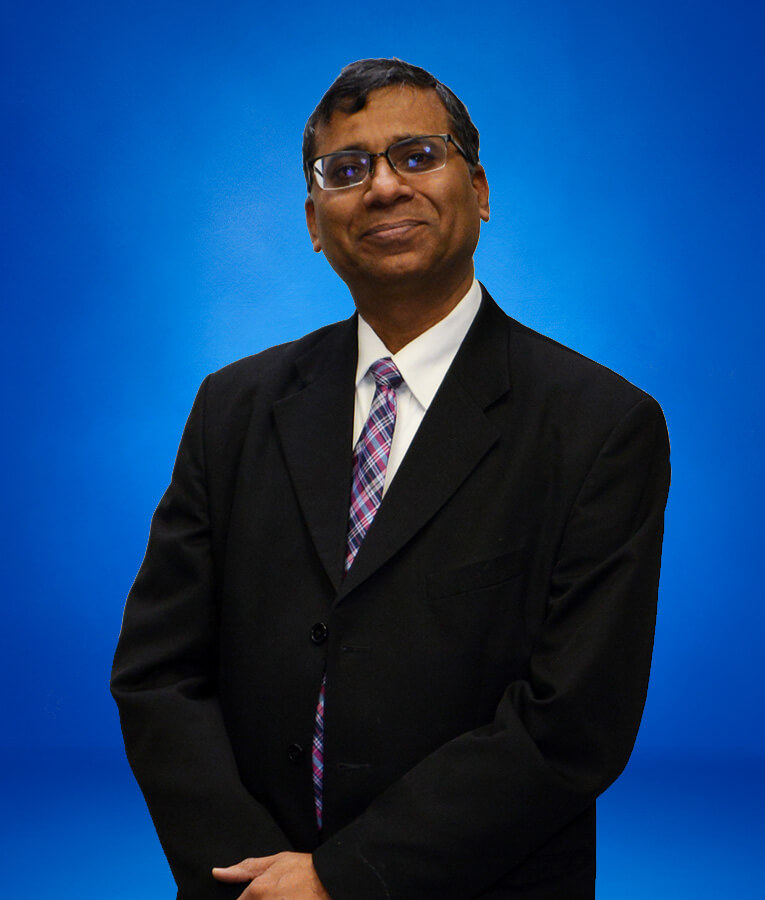 Jammi R. Rao | Executive Chair
Committee: Chair, Governance Executive
Over the course of his 32 year career, Jammi has worked with commercial banks in India, Japan, Kuwait and Canada. He currently works with regulator of Alberta's credit unions where he is responsible for Strategic Planning, Data Analytics and Regulatory Practices.
Jammi has served on the board of Goodwill Industries of Alberta for the past four years and brings proven leadership experience, excellent communication skills and an ability to grasp complex technical concepts required for sound analysis and decision making.
He believes in giving back to the community and says he feels fulfilled by contributing his time and expertise to furthering Goodwill's mission.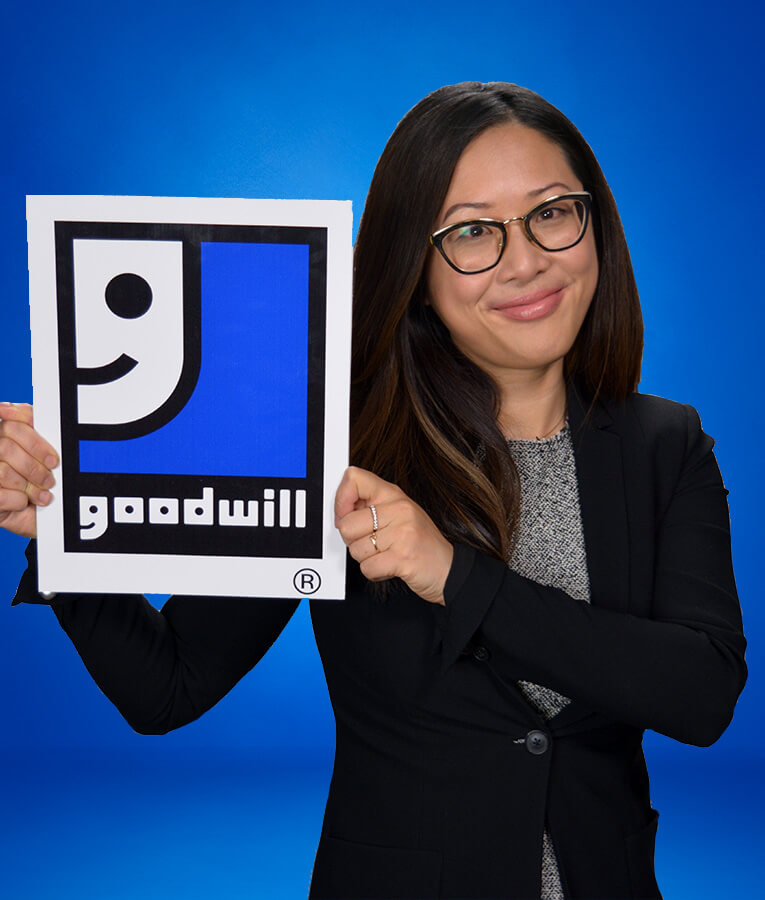 Dorothy Chan | Treasurer
Committee: Chair, Finance and Audit Executive
Dorothy is a Chartered Professional Accountant, financial leader and business partner with a history of working in environments that are going through aggressive growth and rapid change. She has worked with a diverse portfolio of organizations navigating through high growth and restructuring while fostering internal innovation.
Dorothy believes in giving back to the community and is honoured to be serving on the board.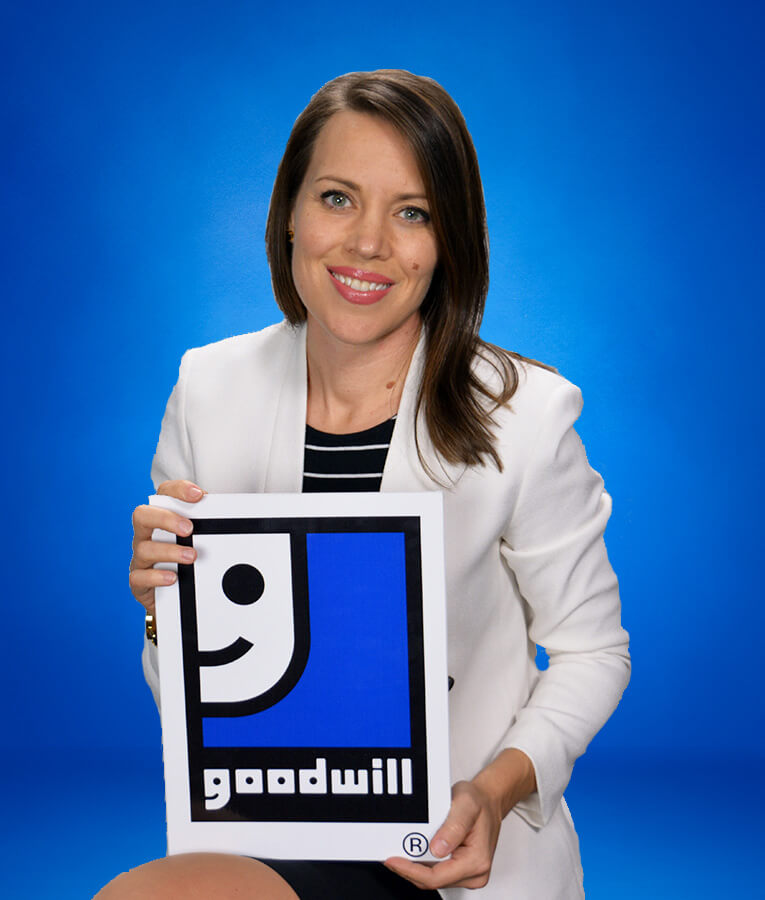 Terri Muhlbeier
Committee: Finance and Audit
As long-term resident of the Edmonton community, Teri has been actively involved in volunteering throughout her life as a mentor, board member and chair of fundraising events. Her career has included accounting and leadership positions in non-profit, public and the private sector.
Terri is always looking for opportunities to give back. She joined the Goodwill board because she believes in their mission and wants to help enhance the lives of people living with disabilities.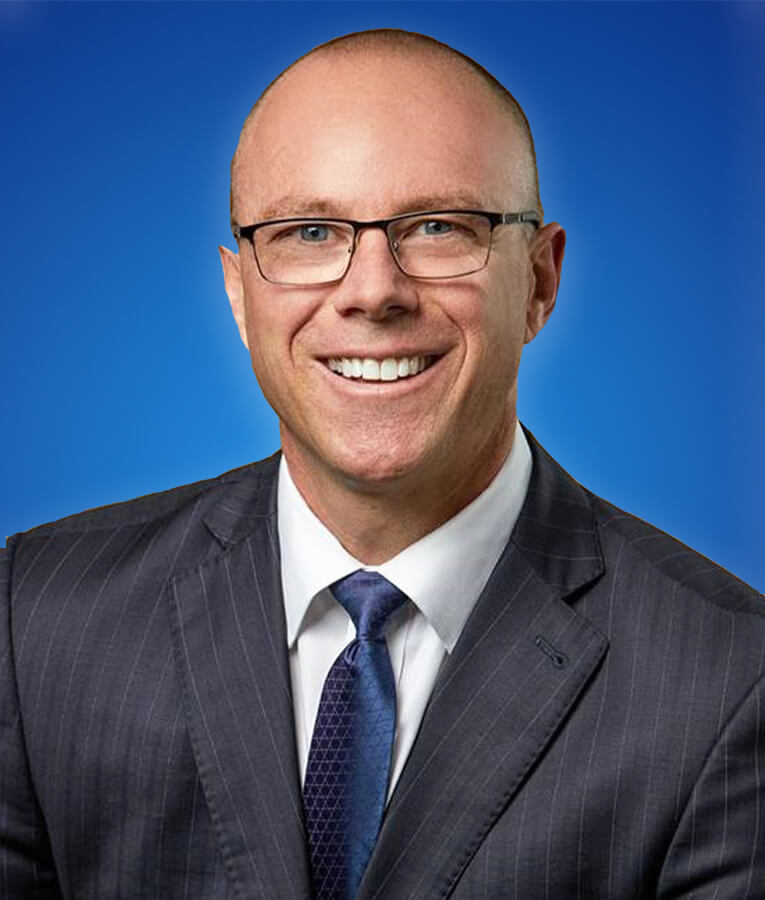 Thomas Trevethan
Committee: Finance and Audit
Giving back to communities is important to Thomas, as he has experience in providing strategic oversight to the Let's Move Seattle Initiative from First Lady Michelle Obama and serving as National Chair for the Culinary Advisory Board of the American Culinary Federation.
His background includes positions as Director of Food and Beverage as well as Executive Chef at locations spanning from Cancun, Mexico to Las Vegas, Nevada.
Married for over 17 years, Thomas and his wife have a daughter and three sons ranging from 9 to 16 years old with most of the family's time centered around hockey, basketball, and baseball.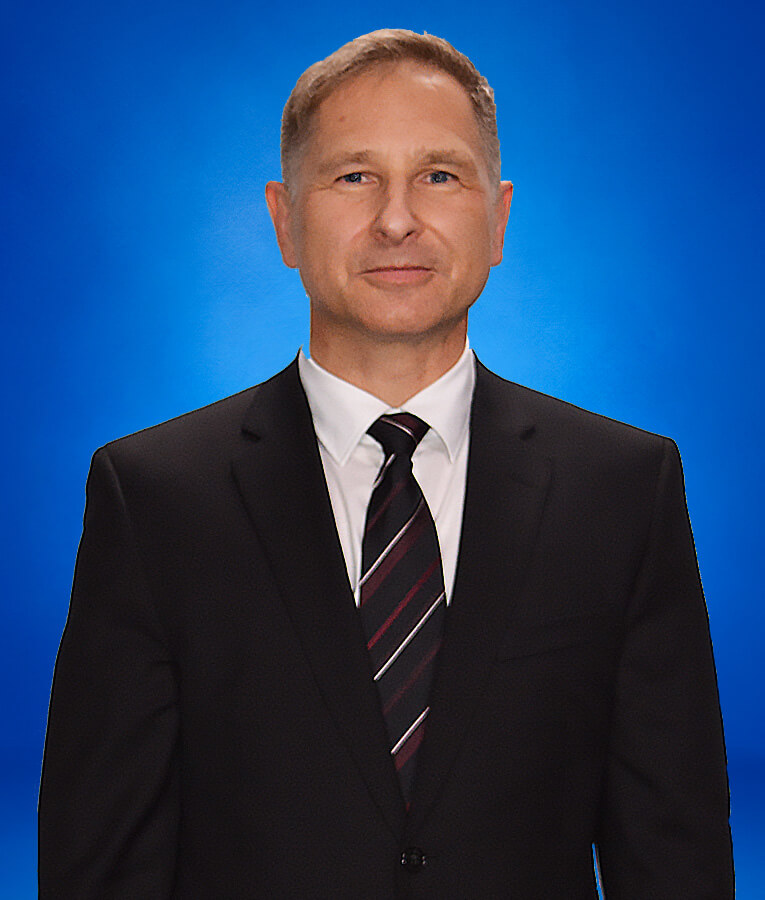 Werner Pietrzyk
Committee: Finance and Audit
Working and living out of Edmonton, Werner's experience spans from accounting and finance to strategic planning and budgeting.
Werner joined the Goodwill team because of the mission and the business model of the social enterprise. Given his experience working in a cooperative system he felt he was in a good position to help add some additional value to an already amazingly well-managed organization.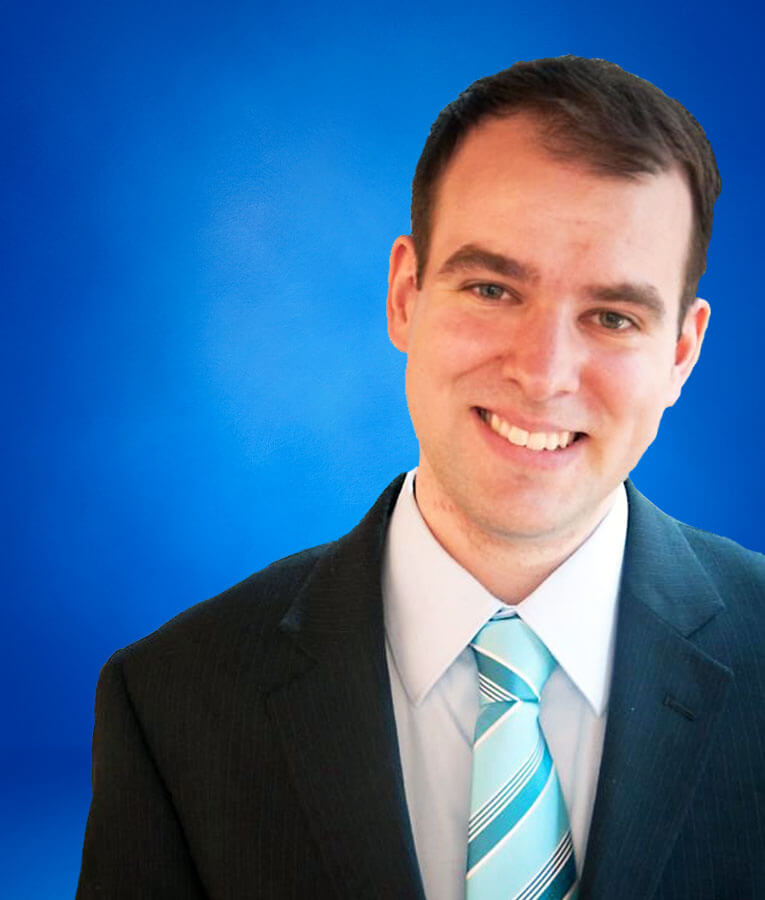 Paul Pryce
Committee: Governance
As an active volunteer, Paul has served as Provincial Advocate for Cystic Fibrosis Canada and was a board member at several non-profit organizations, such as the Rocky Mountain Symphony Orchestra and the Alberta Council of Technologies.
Paul currently serves as the Political & Economic Advisor to the Consul General of Japan in Calgary, as well as Principal Secretary to Japan's Ambassador-at-Large for Arctic Affairs.
Paul was drawn to Goodwill's mission, helping people reach their full potential through learning and the power of work.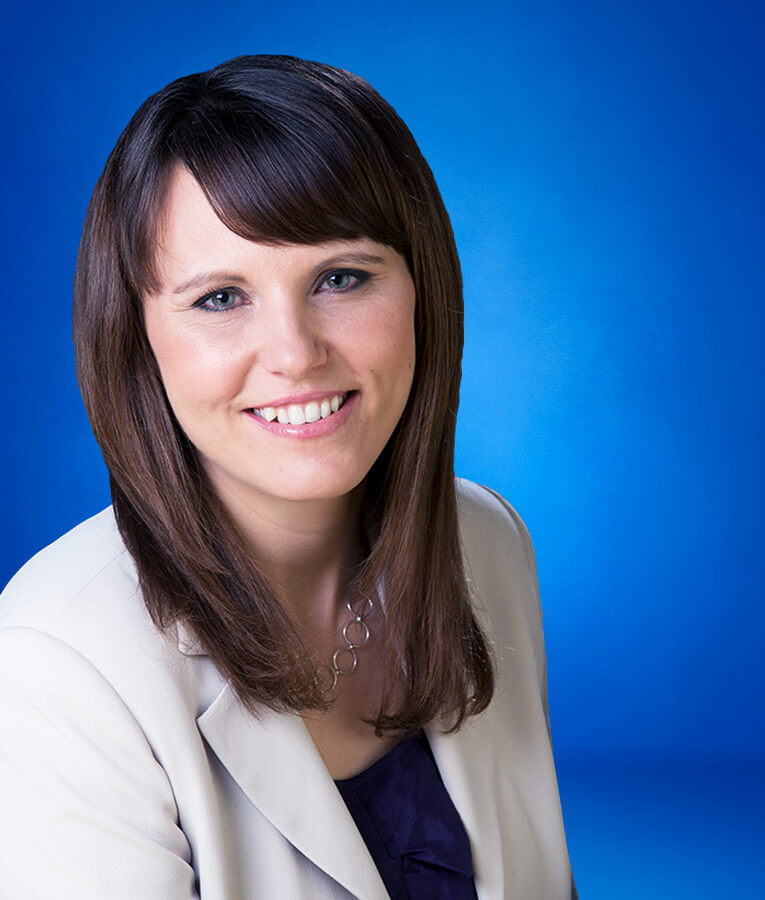 Jodi Tomchyshyn London
Committee: Governance
Jodi has over 16 years' experience encouraging and advancing best practices and policies related to waste minimization, recycling, and a circular economy.
She currently owns and operates JTL Squared Consulting Inc. specializing in overseeing and implementing product stewardship programs and extended producer responsibility programs, encouraging waste minimization.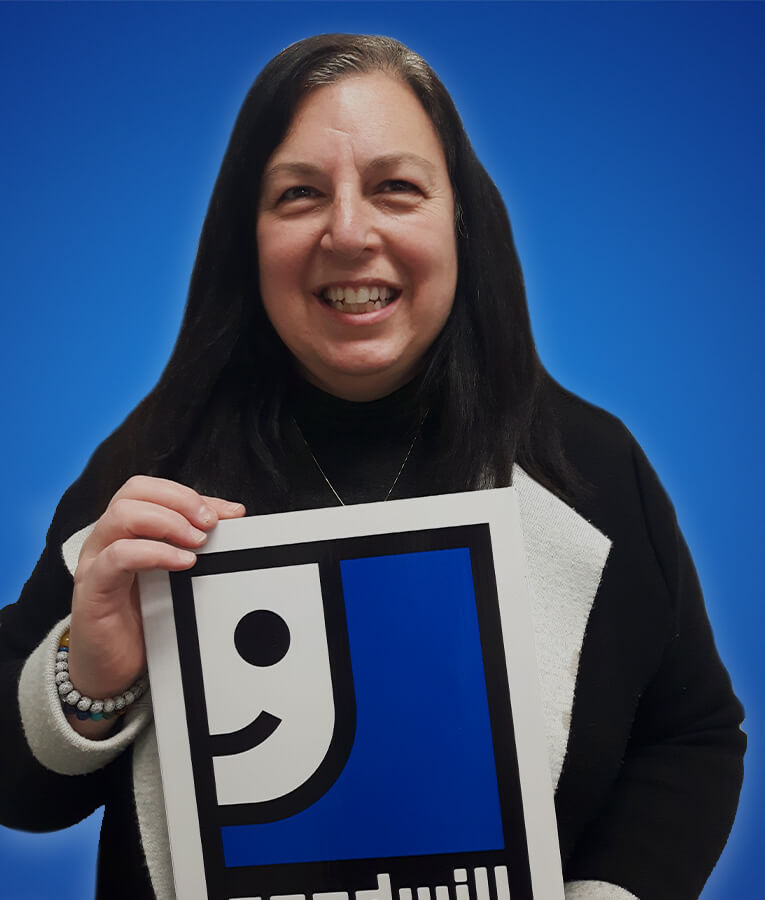 Loradonna Botter
Committee: Governance
Dr. Loradonna Botter brings more than 25 years Human Resources and non-profit experience to Goodwill. She holds a PhD in Organization and Management and has extensive experience transforming organizational cultures.
She develops and implements creative programs and projects to enhance workplace culture, increase cost savings, and assists management with strategy creation. '
In her spare time, Loradonna enjoys volunteering and spending time with her dog, Dallas.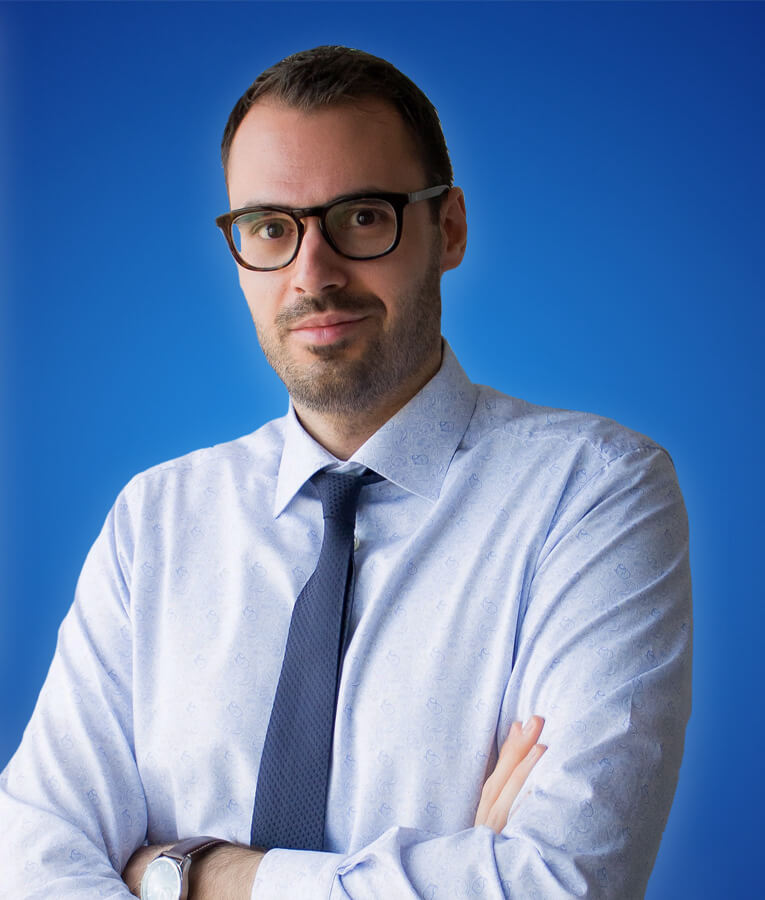 Paul Osbaldeston
Committee: Governance
Paul has a history of community involvement, having previously volunteered with Muscular Dystrophy Canada, Student Legal Services, the University of Alberta Faculty of Law, and the Business Link Edmonton where he provided pro bono legal services to Edmonton area entrepreneurs.
Currently Paul is in-house counsel to Alberta Innovates, where he practices general corporate/commercial law. Paul has experience and achievement in the areas of contract law, privacy law, IP, and regulatory compliance. In addition to his Board work with Goodwill, Paul currently volunteers with the Legal Education Society of Alberta.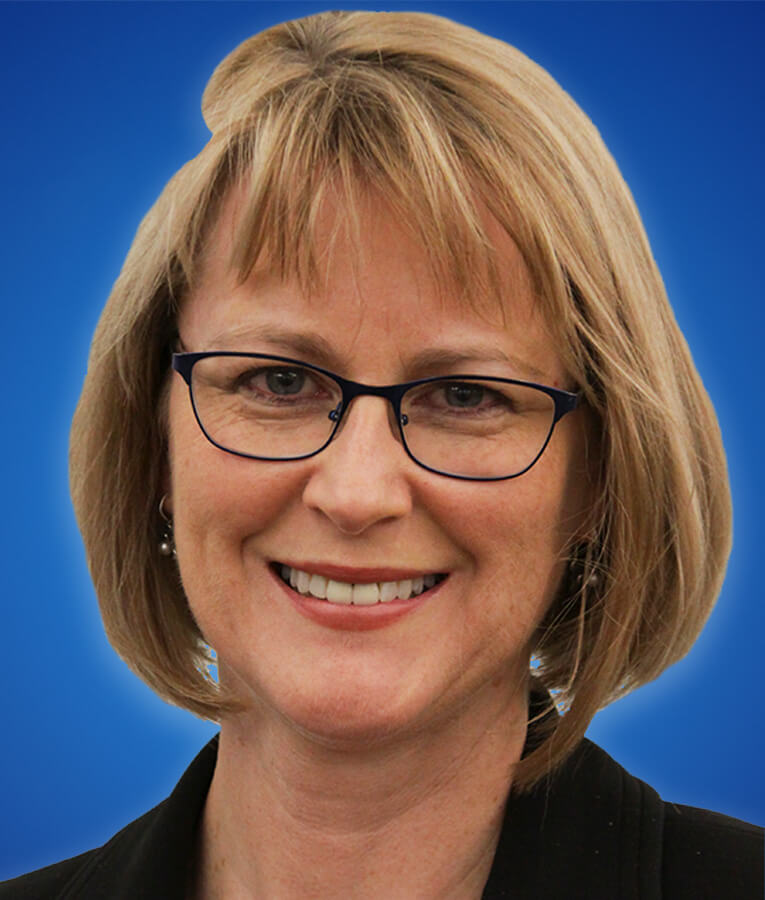 Erin Skinner
Committee: Governance
Erin wants all Albertans to have opportunities for meaningful employment and is proud to serve on Goodwill's board. She believes in the power of work, beyond the paycheque, to positively change lives and build communities.
A life-long Albertan, Erin has family and deep roots in both Calgary and Edmonton.
In her spare time, Erin is an enthusiastic gardener and is a volunteer judge for Communities in Bloom. She also enjoys DIY projects and upcycling thrift finds from Goodwill.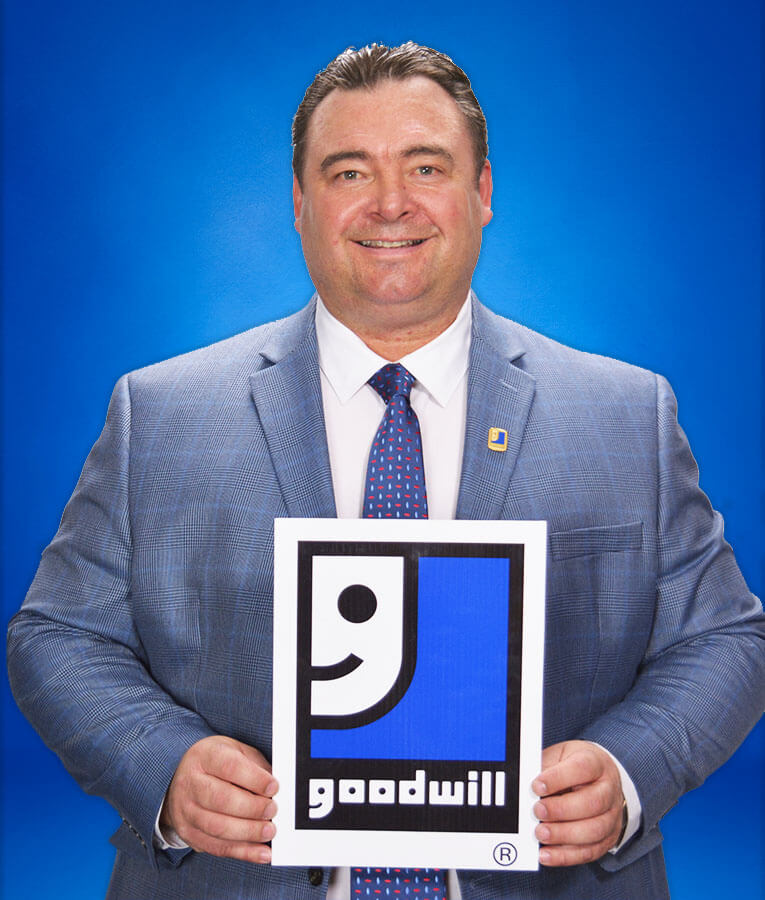 Dale Monaghan | President & CEO
Since coming to Goodwill Industries of Alberta in 2011, Dale has provided significant experience in both business and community development with Goodwill Industries of Alberta. He previously worked with the Mikisew Group of Companies, Alberta Legislature, City of Edmonton and Travel Alberta, providing expertise in business development and marketing at the national and international levels.
Dale is an active volunteer in the community including serving on the Board of Directors for the 2012 Alberta Winter Games and has been involved with the Special Olympics. He continues to push for excellence in community leadership and helping Goodwill provide employment opportunities for individuals with disabilities.
Financial Report 2019
As an equal opportunity employer, 2019 marked one of the best years on record for Goodwill Industries of Alberta. Thanks to our wonderful donors, our organization received more donations than any year prior with 690,126. Thanks to our wonderful shoppers, retail sales were the best on record at $27,491,103 earned, where 89.2 cents of every dollar goes back to our mission. Most importantly, 2019 marked the year of the most earnings ever by our team members with disabilities.
GOODWILL INDUSTRIES OF ALBERTA (REGISTERED SOCIETY)
T3010 Charity Return
Goodwill Industries of Alberta is a non-profit charitable social enterprise that depends on support from community and corporate Albertans. We would like to extend our sincere gratitude to the following supporters.
Alison MacAdam
Allison Johnson
Andre Fotso
Andrea Dieterman
Andrea Morris
Angela Burgoyne
Anita Dingwall
Ashley Blum
Bradley Mastaler
Calvin Li
Carolyn Cushing
Cathy Marshall
Charlotte Pardely
Cheryl Fleming
Christina Mensah
Christine Myles
Clair Birkman
Clint Busenius
Daryl Scot Robinson
Denise Hagman
Duane Froese
Elizabeth Nyong
Eric Pilpula
Gwyn Brooks
Habiba Hassan
Hala Rahami
Hector Rogel
Himani Basra

Ibraham Elchammouri
Imalus Koroma
Iram Shahzadi
Ismeta Dedic
Jack Ramstad
James Clancy
Jamie Khau
Jason Wywal
Jeremy Pope
Jing Yang
Joseph Torpey
Joy Lumague
June Hui-Chan Professional Corp.
Kathrine Bateman
Kathleen Carlson
Kathryn MacMillan
Kelva Kopfensteiner
Kevin Dackiw
Khaled Mogheer
Kim Marki
Kris Aloisio
Krista Semchyshyn
Liliam Huerta
Linda Urchaler
Malik Mawji
Maria Gallo
Mark Caldwell
Matthew Stokes
Matus Toth
Melanie Finlayson
Michael Cardinal
Muhammad Mirza
Murray Harrington
Nagla Erojbani
Nancy Benner
Nathan McKay

Parminder Singh
Patrick Henri
Quantum Chemical
Rahul Pandey
Reid Nichol
Richard Egelston
Royal Board Shop
Rupinder Walia
Rutle Kelati
Sage Analytics
Sandra Shears
Sameh Sawires
Satnam Sarao
Sean Roberts
Seng Southichack
Sharon Wiley
Sherri-Lyn Meaney
Sia Collier
Stephanie Schulte
Stephen Terry
Steve Hall
Syed Ahmed
Tara Patrie
Tasha Baker
Tessa Bradley
Travis Dieterman
Vanlee Robblee
Virginia Burke
Wendy Drummond
Wendy Mertz
Wouter Bouyks

The Estate of Marion and Ben Johnston
Commercial Services Support
Advanced Book Bindery
All Blades Canada
Alberta Canola Producers
Argyll Motor Sports and Marine
Atlas Book Bindery
Bon Ton Bakery
CCD Technologies Ltd.

Granite Workx Inc.
Heron Printing
Jasper Auto Parts
L&M Ditching
Layfield Geosynthetics
Mister Transmission

Oliver Plumbing and Heating
Renew Services
Smartypantz Entertainment Corp.
Tire Shop Plus
West Star Signs